National Teachers Appreciation Day – Mary Kay® flyer designed by QT Office
National Teachers Appreciation Day is here again. This year it's on Tuesday May 9 2017. It's a day to say "Thank You" to the special teachers that you know.  Let them know that they are appreciated for all that they do for your little ones.  The designers at QT Office have created a flyer showcasing two great gift set options that any teacher would love. To really go the extra mile for your customer offer gift wrapping and delivery.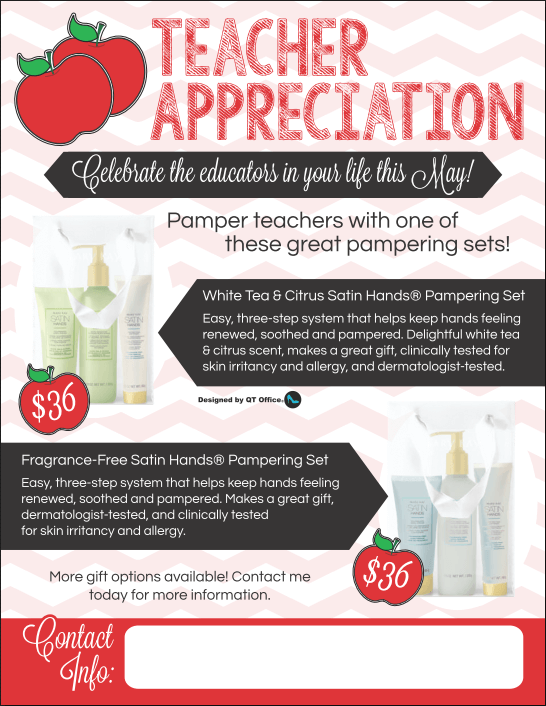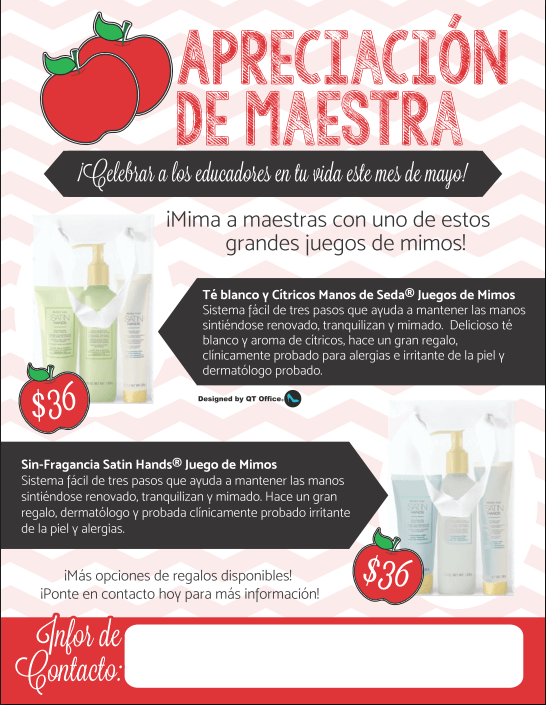 As you can see  it features suggestions on gift sets that would make any teacher feel appreciated.  Mary Kay Ash knew the importance of this, one of her most popular quotes is "Everyone has an invisible sign hanging from their neck saying, 'Make me feel important.' Never forget this message when working with people."
The designers at QT Office included an editable text box where you can add your personal contact information. You can call, text or email your customers reminding them about this upcoming day, some may not know about it at all and others may have just forgotten. It also a great flyer to share in your personal customer groups on Facebook. Make sure you check all social media guidelines on www.marykayintouch.com when promoting your business to follow the best practices.
To learn more about the products QT Office offers exclusively for Mary Kay® consultants visit us online or give us a call Monday- Friday 10am – 5pm Eastern at 888-440-7247.
This entry was posted in QT Office® on April 24, 2017