Mary Kay® New Year Hostess Plan
For many January is a month of reflection and change. It's a time most of us take a mental inventory of our life, what we love and what we want to change. This make January a great month for offering your powerhouse skincare, glamour and the career opportunity. You have something to offer to everyone.
Our designers at QT Office have created a sharp New Year, New You hostess plan to offer your potential hostess $100 FREE to host a Mary Kay party in January! We will feature this in our Seasonal Selling section of our unit and area apps, websites and combo plans!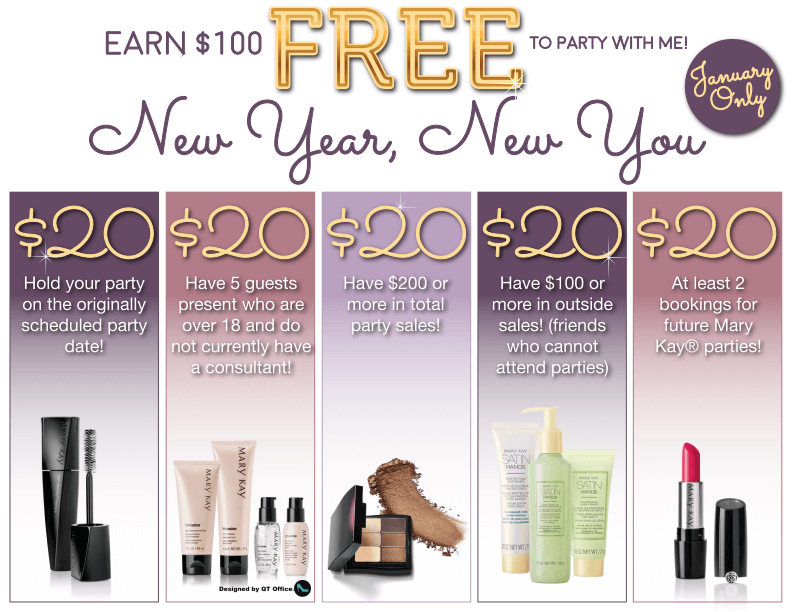 To make sure you leave your booking with plenty of new leads you may want to play the fabulous game. It's also a huge eye opener for those who feel "they don't know anybody". It shows them they could host their own party or even start their own business!
If you are looking for a new app or website our team will be at Leadership 2017 in the vendors expo. Stop by and see us.  As always we will be having our best sale of the year! For all of our current QT's we know you will stop by and say Hi. Our team looks forward to seeing you year after year!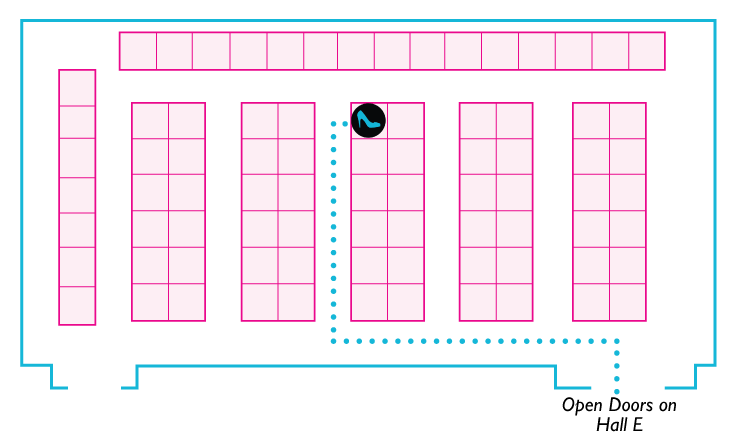 QT Office Fall Website and App Sale
QT Office is having our Fall Website and App sale. If you are looking for a unit or area app,  website   or combo (the best of both worlds) with daily special recognition, item additions within 1-2 business days, amazing training, and wonderful customer support, then give us a call Monday-Friday at (888) 440-7247 or visit us online to find out which plan is right for you!
Our maintenance plans also come with:
Free domain name
Free website transfer from your current website/app provider
Free website/app redesign on your anniversary
Daily special recognition for unit career path, unit star consultants, new unit members, queens court of sharing, queens court of sales, unit birthdays and unit anniversaries (available on the Primary app, Silver website, and above)
No contracts or cancellation fees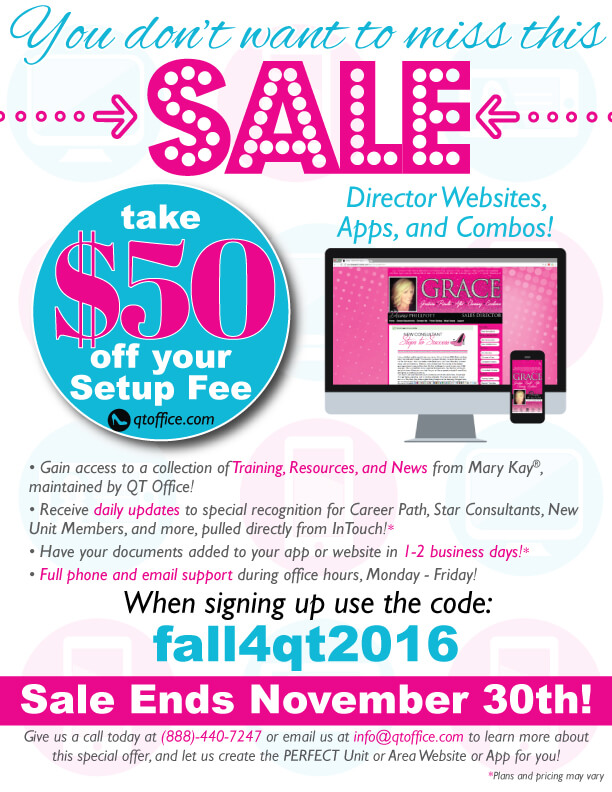 New Mary Kay® Winter Escape 2016 Flyer
Our talented designers at QT Office have created a beautiful flyer showcasing the new Mary Kay® Winter Escape product line.  We will be adding this flyer to our Unit/Area Apps and Websites homepage so that it is front and center for all of your unit/area to see!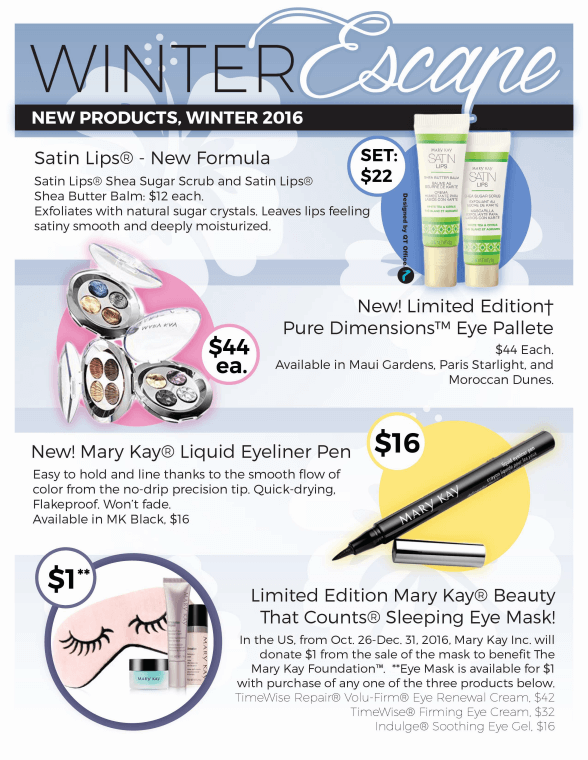 Stuff the Turkey then Your Roll Up Bag 2016
During the month of November, when you have 5 or more girlfriends join you for a complimentary Mary Kay® Makeover, you will receive a FREE Roll-Up Bag! Your guest must be at least 18 years of age and cannot already have a Mary Kay® Consultant.
Not only does our flyer give you wonderful Mary Kay® selling ideas and suggestions, but it also comes with two interactive tracking sheets! All you have to do is check off the stars along your way while you sell the products! Our Mary Kay® Stuff the Turkey, then Your Rolls Up Bag is a fun way to get into the Thanksgiving spirit!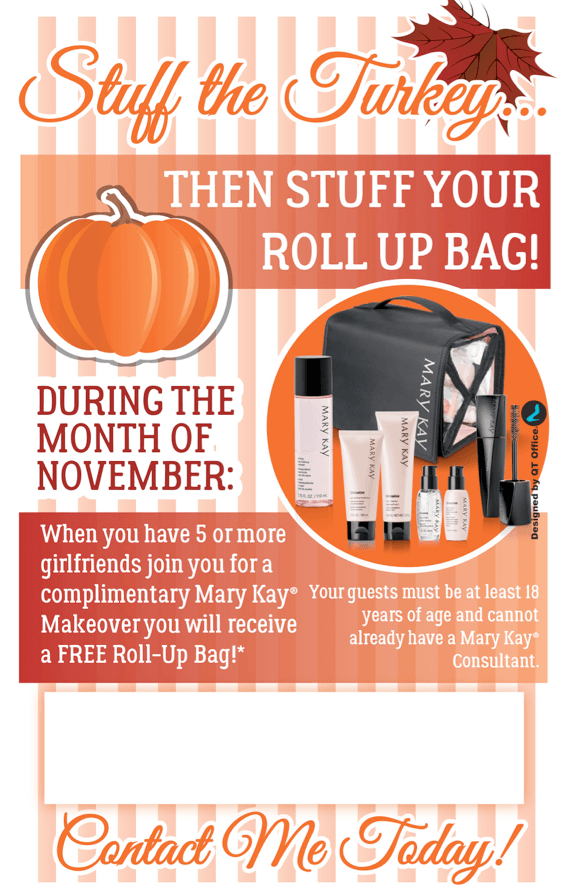 We also have a great image for you to email your customers to get them in the spirit!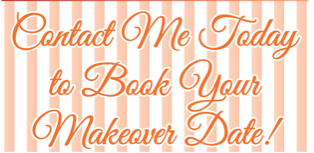 Embrace Your Dreams with Mary Kay® November 2016
It's the fourth month of the "Year of Your Dreams" and Mary Kay® is awarding a beautiful bracelet for the month of August. This month's bracelet says "Live by the Golden Rule". Doing unto others as you would have them do unto you was one of the core beliefs of Mary Kay Ash. She truly believed in helping others achieve their dreams. The flyer below shares the details on how to earn this reward.
Need great selling ideas for your Unit or National area? Our QT Office Training Center is full of them. Give us a call today about getting your Unit Website or App up and running before the holidays.