5 mistakes stopping you from being a serious Mary Kay® Networker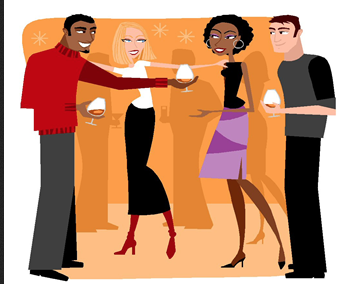 If you're a small business owner (especially in Direct sales), then sometimes it's easy to get the feeling that you have offered your product(s) to everyone you know. You have called all your current customers and hostesses to "do a favor" and now you are out of new leads.
You could Warm-Chatter (and you should) but there is a better solution to this; that is
Networking
Most of us have problem been to a networking event before and we may (or may not) of received the results we have wanted. I know when I first started networking, it seemed like I "wasted" a lot of time. Over the years I have studied from the best and learned from my own mistakes and that is what I am going to talk about today (networking mistakes and how to prevent making them yourself).  It's time to learn how to meet QUALITY PROFESSIONALS and BUILD RELATIONSHIPS that will last a lifetime.
Mistake #1  –  Wall Flower:
Sure, the food is great and having a mouth full of food is a good reason not to talk to anyone…. but standing on the side line is not going to introduce you to a new relationship. The good news is that if you are chowing down, there is probably a lot of others standing by the crab dip that is a little nervous about meeting someone as well.
Solution:

Be brave! Strike up that conversation! Can you name one National that made it to NSD because she was afraid to say hello?  (no you can't)
Mistake #
2 –  You try to meet EVERYONE
Ok, so you have 2 hours and 200 business cards ….  That means you have 60 seconds to introduce yourself to each person, get them a business card and invite them to a unit meeting…… better walk fast!  …..  no, this is NOT the answer
Solution:

Focus Focus Focus! You want to build a RELATIONSHIP not just a contact, so you will want to really focus on meeting a few people (2-5 realistically). Scan the room (or better yet, check the attendee list if they have one) Think "who would make a good "referring partner". Someone that you could GIVE business to and GET business in return.
For example: Let's say a great hairstylist is at the Networking event. Offer to suggest the stylist to all of your brides and bridal parties and "mention" that you love to help with make-up for weddings. It's a natural fit.
*note: do your homework and make sure the person DESERVES  your referrals and will take care of your clients, the last thing you want to do is give a bad referral.
I heard it best said in  this way: "If you try to meet everyone in the room you meet no one in the room."
(*not sure who made that quote, but it's a good one!)
Mistake #
3 – You ask to much too soon
Does this sound familiar? "Hi! I sell Mary Kay® I'm so Excited, you would be a perfect model, want to host a class right now, how about in 10 minutes? Do you think everyone in your family would like to host a class every weekend for the next 2 years?"
Now, I'm not trying to say that warm-chatter and putting your business out there is bad (because it's not), but I am saying that "there is a right way to put your business out there".
Solution: 

If you show the 3 C's (Calm, Confident and politely Consistent) …I.E. follow up in a professional calm way, then your bookings will work out MUCH better than if you seem desperate for someone to be a hostess.  You do not want to have a class with someone that feels pressured to hold one for you.
Try this instead "Hello (insert new contacts name), I am a (insert position) with Mary Kay® Cosmetics. It's my job to ensure that women know the correct way to apply skincare products and cosmetics to highlight a women's natural beauty. I really enjoy my job, I get paid to help women feel beautiful. I would love to hear about what YOU do. (after you chat for a little while, then offer to meet for coffee some time to "catch up").
John Maxwell (one of my all time favorites) said it best:

"people do not care how much you know until they know how much you care"
John Maxwell
Often times if we do not get a new customer or instant contact right away we feel as if the event was a bust but Networking is not just about meeting women for in "the now",  it's about building relationships that will last.
Mistake # 4 – It's all about "me"
(this was partially covered in mistake number 3, but it's worth going more in-depth on this one because it's VERY important).
No matter what your business is, it's customarily to explain what you do, and then politely wait to hear what the other person does. This is the civil way to have a conversation.
Civil conversations are great, but they rarely "wow" a person into sending you business. This is why we have to show someone "how much you care"; How do you do that?
Solution:

The way you show someone how much you care is to make the conversation about THEM, ask questions about THEM, after shaking hands and finding out their name I always ask.
 "So_____ what do you do".  I give them the opportunity to tell me a little about what they do and then I ask for their card.  If I know I don't need what they offer I tell them, but I also let them know I will keep their card for if I here of someone that needs what they offer.
 If the person stops talking about what they do, I ask them questions like "How do you like doing that" and "that sounds interesting, have you always wanted to do that". To be fair, I really am interested in hearing from people and thoroughly enjoy hearing life stories, especially if the person is passionate about what they do. If you're a good listener at first, the conversation will eventually come back around to you and the other person will be more receptive to you than if you simply talked "at" each other.
At this time they will most likely ask for you card.  This is a great time to tell them a little about what you do and WHY you love it. Even if they do not want/need your product it does not mean that they do not have a lot of co-workers, clients and friends that do.  Building an on going connection with them will far outweigh a quick sell.
Remember what Maya Angelou said:
"People will forget what you said. People will forget what you did. But people will never forget how you made them feel."
Maya Angelou
You will find out "how you made them feel" when you make that follow up call.
Mistake # 5 Not following up
Does this sound familiar? "I'll give you a call"… then… you don't.
(I've done it too and I'm not judging! We are only human)
Solution:

Build the relationship at the networking event the RIGHT WAY (mentioned above) then Follow-Up like you said you would. If you listened attentively and where not "pushy" and showed off your 3 C's then most likely your new contact will look forward to your call.
Treat each and every networking event like any of your business events; with respect and purpose.
Remember that its not "net-SIT" it's not "net-EAT" its "net-WORK".
Good luck to all of you who are using Professional networking events to grow your business.  Hang in their and be persistent and consistent and build your professional team one event at a time!
This entry was posted in QT Office® on August 21, 2012