Free printable Mary Kay® flyer for Operation Sunscreen
We are so excited to be creating a flyer to help you promote Operation Sunscreen. Many Mary Kay® units are working with the nonprofit organization Soldier's Angels. It's a volunteer based charity that provides aid and comfort to the men and women of the United States military including
Army
Marines
Navy
Air Force
Coast Guard
Veterans
and their families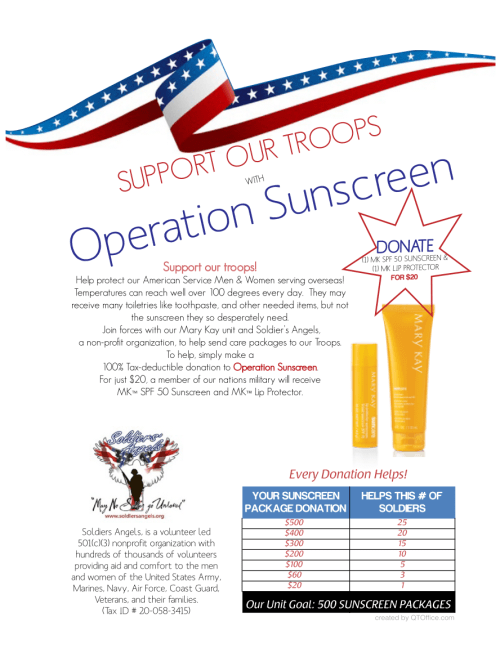 Soldier's Angels is an official 501(c)(3) which means anyone who gives money towards the cause may write it off on their taxes. Be sure to reach out to individuals and businesses you think may be interested in helping. Many corporations have budgeted spending each year for charitable causes. If you are able to talk to business owners or managers about this it would also be the perfect time to mention your corporate gift giving services for employees and their VIP customers for Christmas and other holidays. Many businesses make these decisions months in advance and we are 6 months out from Christmas.
Also many people are feeling more patriotic around the Fourth of July and feeling thankful for our freedom and may be looking for a way to thank a special man or woman in our military.
As always we will be adding this to our Unit Website Training Center for all of our QT Office members to have access to.
This entry was posted in QT Office® on June 26, 2013