Graduate in Style! Mary Kay® Class of 2016 Flyer
Graduate in Style! Mary Kay® Class of 2016 Flyer
Congratulations to the Mary Kay® Class of 2016! If you debut as a Mary Kay® Independent Sales Director from August 1st, 2015 though July 1st, 2016 you can earn beautiful, fabulous rewards!
This Mary Kay® Class of 2016 flyer shows all of the amazing prizes you can earn if you debut as or offspring an Independent Sales Director! Become a director and you'll win an eye-catching Class of 2016 ring, a Vince Camuto® handbag and a gorgeous necklace and earrings set! If you debut an Independent Sales Director, you'll receive a matching Vince Camuto® wallet! If you debut two or more Independent Sales Directors you'll receive a $100 bonus in addition to the other fabulous prizes for each offspring during the contest period!
You can find this beautiful Graduate in Style! Mary Kay® Class of 2016 Flyer on the Homepage and the Company Contests page of our Unit Websites for Directors and Nationals!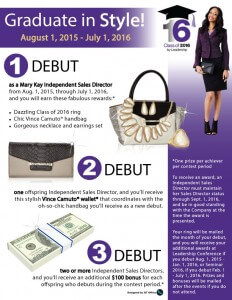 Are you in need of a beautiful unit or area website? QT Office® can do it for you! You can see examples of custom live unit and area websites and banners at www.qtoffice.com!
We want you to stay in touch! We're on Facebook, Twitter, Pinterest, and Instagram!
This entry was posted in QT Office® on August 03, 2015