Mary Kay® Holiday Stop and Shop by NSD Kim McClure
Mary Kay® Holiday Stop and Shop
We are so excited about this idea created by National Sales Director Kim McClure called Mary Kay® Holiday Stop and Shop! Now is the time to get out the wrapping paper and make those phone calls! Read this great training idea on Mary Kay® Holiday Stop and Shop to get in the holiday spirit and reach out to your customers! Be sure to start the Mary Kay® Holiday Stop and Shop idea before the craziness of the holiday season kicks in or before your customers have already made their gift purchases!
We will be adding this fabulous Mary Kay® Holiday Stop and Shop  idea to our QT Office® Unit Websites Training Center in the Holiday section. We will be filling it from now until Christmas with new and trendy ideas for having the best season in your Mary Kay® business ever.
Click on the flyer below to view/print!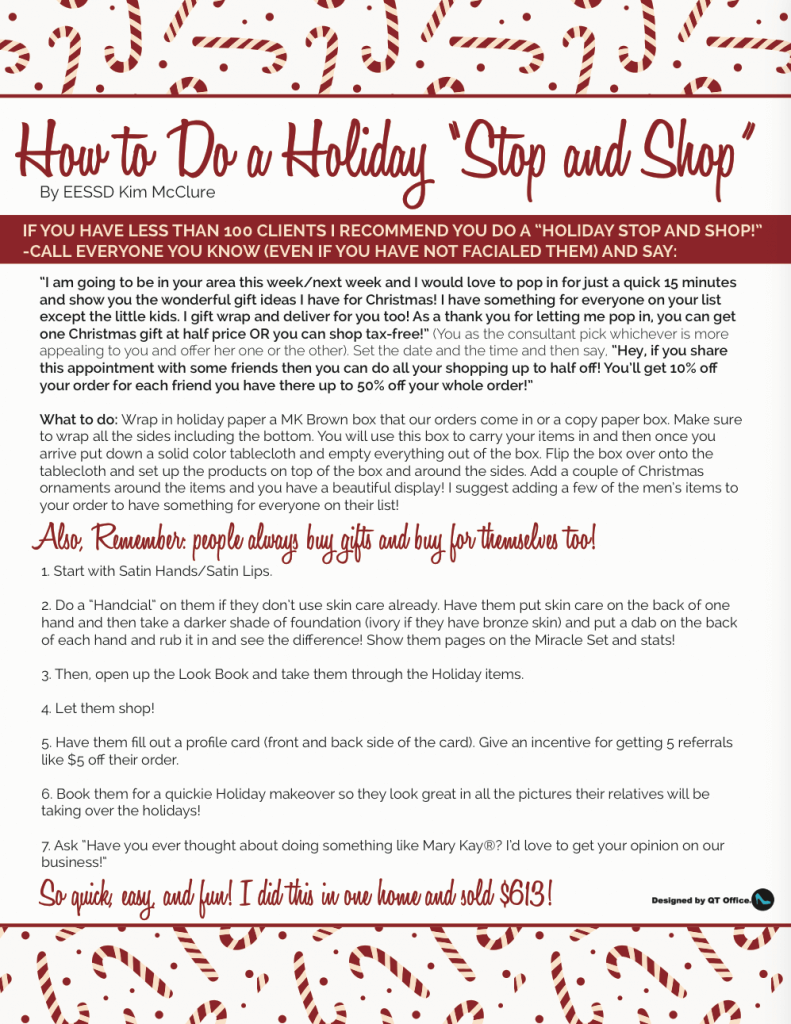 QT Office® provides an astounding, flourished training and seasonal selling center for all of your holiday needs and sales! We provide easy to print fliers, so you and your unit can use them on the go! If you are ready for a new and just starting out your Mary Kay® business, be sure to check out our Unit Websites to see live examples! Stay connected with QT Office® through Facebook, Pinterest, Twitter or even by signing up for our mailing list so you won't miss out on these great Mary Kay® holiday ideas! 
This entry was posted in QT Office® on September 26, 2013