Mary Kay® 12 Days of Christmas Flyer Freebie 2014
Mary Kay® 12 Days of Christmas Flyer
We hope everybody had a lovely Thanksgiving holiday! QT Office® has prepared you a Mary Kay® 12 Days of Christmas flyer now that Pink Friday has passed and the turkey is in the fridge, we are ready to gear up for Christmas! Our Mary Kay® 12 Days of Christmas flyer lists items that you can sell within 12 days to help you sell various Mary Kay® products to your customers, family and friends! All of the products listed on the Mary Kay® 12 Days of Christmas flyer below are wonderful gift ideas!
Not only does our flyer give you wonderful Mary Kay® selling ideas and suggestions, but it also comes with two interactive tracking sheets! All you have to do is check off the stars along your way while you sell the products! Our Mary Kay® 12 Days of Christmas flyer is a fun way to get into the Christmas spirit!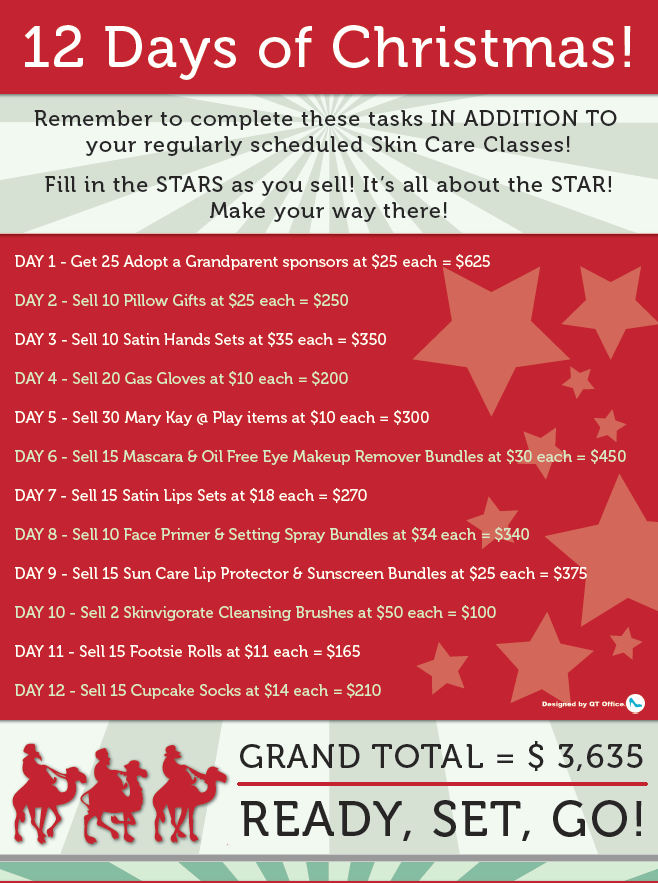 Want to have a great, up to date homepage filled with Mary Kay® news? Sign up for a Mary Kay® Sales Director website today to get started on organizing and fulfilling your Mary Kay® career! We offer a fabulous training and seasonal selling center filled with Mary Kay® sales ideas and training materials that are readily accessible! By having a Mary Kay® National Sales Director website with QT Office®, you will find that our Mary Kay® website designs will match and suit your personality while giving you a professional, modern look! Stay in touch with QT Office® to be in the know of other great free Mary Kay® flyers through our Facebook, Pinterest, Twitter, and by signing up through our mailing list!
This entry was posted in QT Office® on December 02, 2014