Mary Kay® Bridal Flyer
Mary Kay® Bridal Flyer
With bridal season in bloom, why not pass out a Mary Kay® Bridal flyer? QT Office® is giving you a free Mary Kay® Bridal Flyer for you to fill out with an editable textbox to hand out to all the brides and bridesmaids you know! QT Office® is keeping the Mary Kay® Bridal Flyer in our Bridal section of our Mary Kay® Unit Websites!
Let the bride know that you can give her the most perfect look for her picture-perfect day! The Mary Kay® Bridal Flyer has three slips to a page, so you have a variety to choose from! Click on the images below to download and print your Mary Kay® Bridal Flyer freebie today!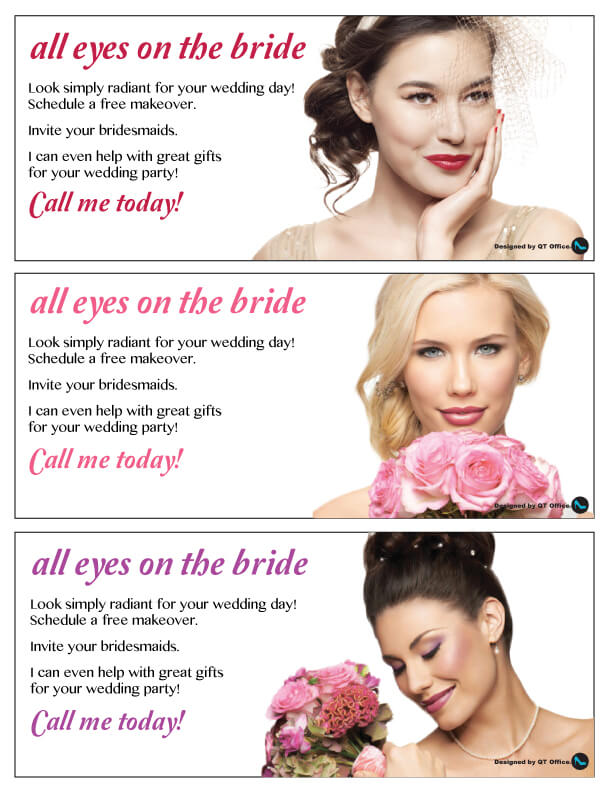 When using the flyers or social media posts created by QT Office, we ask that you please make sure you check all social media guidelines on www.marykayintouch.com when promoting your business to follow the best practices.
Do you want great Mary Kay® selling ideas and Mary Kay® training material for you and your unit? QT Office®'s Mary Kay® Director Websites have everything you need from an updated training and seasonal selling center to an auto homepage filled with current Mary Kay® trends and announcements, and much more! By having a Mary Kay® Unit and Area website with QT Office®, you will have a personalized custom Mary Kay® website design with a look that matches your style! QT Office® provides a user friendly Mary Kay® e-mail marketing for you to email your customers and consultants with fabulous ready to go designs! Looking for a Mary Kay® Inventory system? Let QT Office® help keep your inventory organized as well! Stay connected with QT Office® through Facebook, Twitter, Pinterest and by signing up for our blog!
This entry was posted in QT Office® on April 29, 2015