Mary Kay® Car Program Sheet
Mary Kay® Car Program Sheet
QT Office® has made a Mary Kay® car program sheet just for Directors! We are keeping this flyer in the Tracking section of the Training Center for our Unit Websites for Directors and Nationals. Our Mary Kay® car program sheet is a great way to keep you on track for receiving your Mary Kay® car. Since we made a Mary Kay® car tracking sheet last week for the Premier Club Program, we have decided to make one for the Premier Plus Promotion!
This Mary Kay® car program sheet shows you the qualifications and additional requirements you must meet in order to win! The promotion lasts from January to December 2014.
Click on the image below to download and print your Mary Kay® car program sheet to keep on hand. If you are goal driven, you will see your new Mary Kay® career car BMW in no time!
QT Office® has also made this flyer available in Spanish! Our Spanish tracking sheets will be in the "Seguimiento" section under the Centro de Entrenamiento for our Unit Websites. To download/print our Spanish version click here!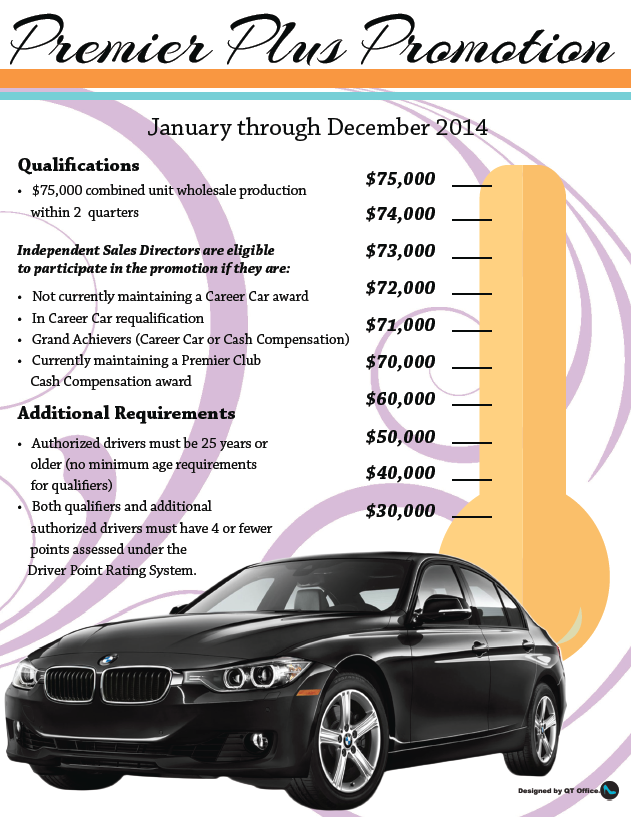 Do you want to have popular, stylish Mary Kay® tracking sheets like these? Stay connected with QT Office® by subscribing to our blog! Come join us on Facebook, Twitter, and Pinterest! If you want to have an aspiring, trendy Mary Kay® Unit Website, browse through our website and check out our great deals and prices for Directors and Nationals! We provide a fully stocked, ready to go Training Center for your Mary Kay® business! Don't forget to use the promo code below when you sign up for our Unit Website today!
This entry was posted in QT Office® on June 25, 2014