Mary Kay® Career Conference 2015 Challenge Chevy Cruze
Mary Kay® Career Conference 2015 Challenge
Looking for a blazing, new red Chevy Cruze to roll up in your driveway? Check out the Mary Kay® Career Conference 2015 Challenge flyer designed by QT Office®! QT Office® is helping you stay in your goal's tracks to help push you to getting your red Chevy Cruze! QT Office® is keeping the Mary Kay® Career Conference 2015 Challenge flyer on the homepages for our Mary Kay® Unit and Area Websites! 
Click on the image below to download/print your Mary Kay® Career Conference 2015 Challenge today! By staying determined and qualifying as a Beauty Consultant Grand Achiever by the end of February, you have the changes of receiving onstage recognition, a bundle gift, and a new red-hot Cruze!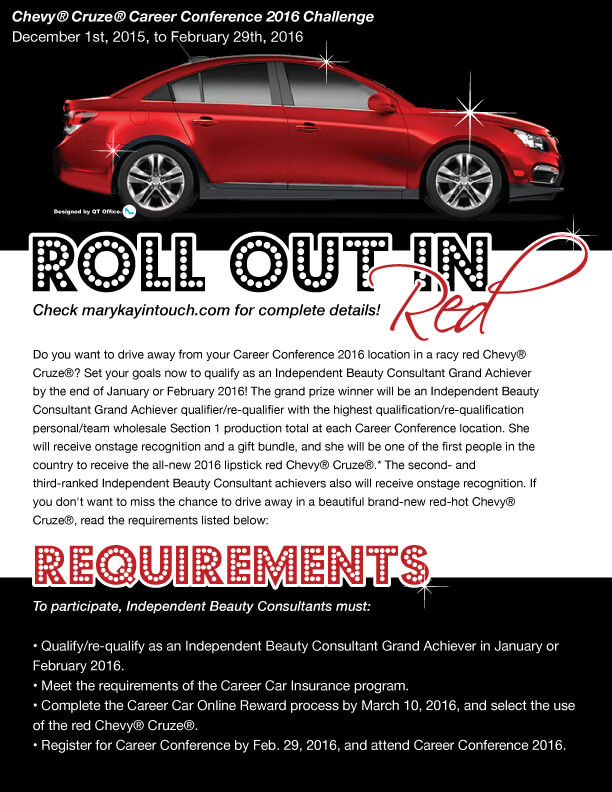 Let QT Office® help you with every part of your Mary Kay® business! We offer a wide variety of Mary Kay® website designs that will match your unique style and personality! QT Office®'s Mary Kay® National Sales Directors websites have great and up to date Mary Kay® Contests and Mary Kay® Training Material for you and your unit. By having a Mary Kay® Unit Website with QT Office®, you will feel organized and have more time for your business! QT Office® provides a great Mary Kay® e-marketing selection, and a Mary Kay® inventory program. Stay in touch with QT Office® through Facebook, Twitter, Pinterest, and by signing up through our mailing list to get more Mary Kay® freebies!
This entry was posted in QT Office® on February 19, 2015