Mary Kay® Fall Product Flyer 2017 Designed by QT Office
Woo Hoo! Mary Kay® just released their new Fall products. The team at QT Office has designed a super sharp flyer for you to share the products with your customers, family and friends.  Use this flyer as a booking tool to get your hostess to schedule a time to try all the latest products including the new TimeWise® Vitamin C Activating Squares. We have a great flyer with an editable text box for your information you can use as an invitation! 
As always we will be featuring this sharp fall product flyer along with other great flyers in the Seasonal Selling section of our Unit and Area Websites.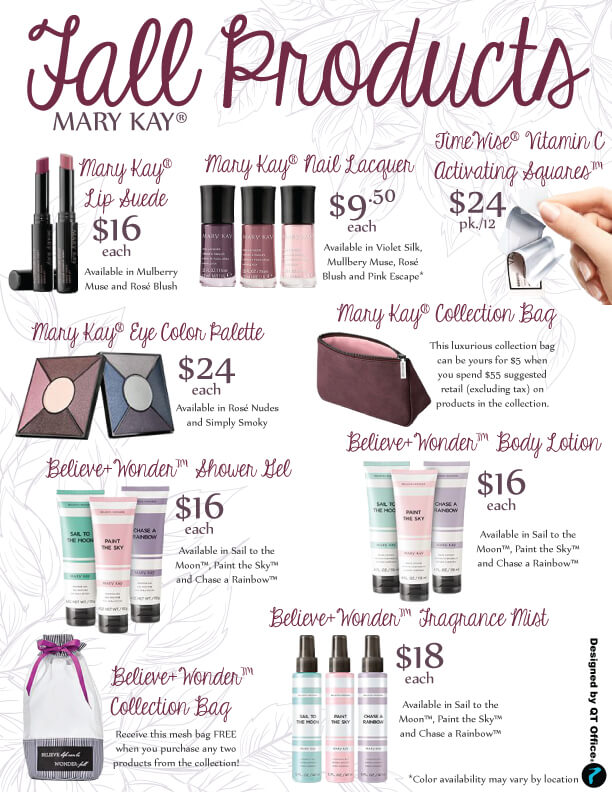 Are you interested in more sheets like this one? Sign up for a Unit Website for Mary Kay® Directors and Nationals TODAY with QT Office®! We have sheets like this and much more in our fabulous Training Center and Seasonal Selling pages! Contact us today!
When using the flyers or social media posts created by QT Office, we ask that you please make sure you check all social media guidelines on www.marykayintouch.com when promoting your business to follow the best practices.
This entry was posted in QT Office® on August 10, 2017