Mary Kay® Glow and Tell Challenge
Mary Kay® Glow and Tell Challenge
Looking for a way to spread the word about the Mary Kay® Glow and Tell Challenge? QT Office® has created a Mary Kay® Glow and Tell Challenge flyer freebie for you to use! QT Office® is keeping this flyer in our Seasonal Selling section for our Mary Kay® Unit Websites!
The challenge is for new customers to use the Mary Kay® Skincare products for 21 days to notice a fabulous glow! By providing you with an editable text box on the flyer, you can type in any special instructions you would like for them to know, and if they can earn special prizes along the way! Click on the image below to download and print your Mary Kay® Glow and Tell challenge flyer freebie today!!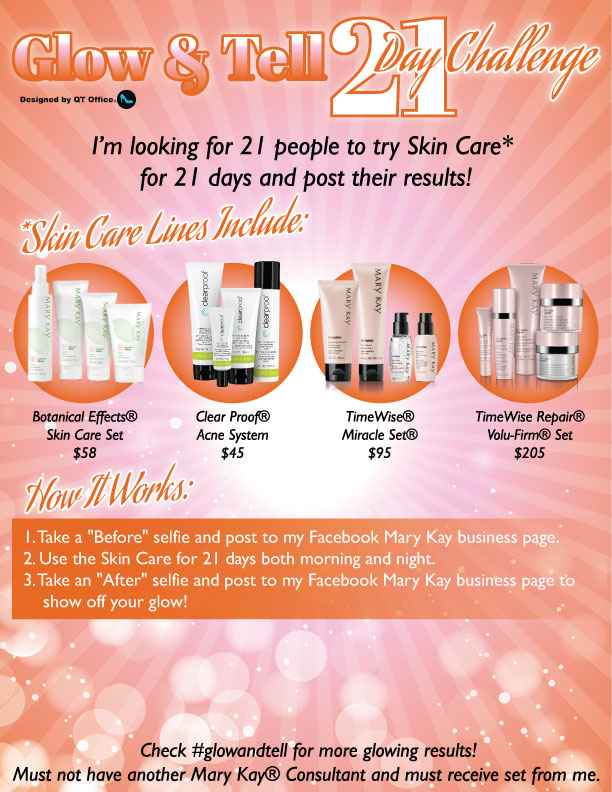 When using the flyers or social media posts created by QT Office, we ask that you please make sure you check all social media guidelines on www.marykayintouch.com when promoting your business to follow the best practices.
Looking for an organized, trendy Mary Kay® NSD Director Website? Browse through various Mary Kay® website designs, and see how having a Mary Kay® Unit Website with QT Office® can help you stay on track and organized! QT Office® provides a visually appealing Training and Seasonal Selling Center filled with Mary Kay® training material, Mary Kay® Gift Cards, Mary Kay® Booking Scripts and so much more! QT Office® keeps up to date with current Mary Kay® contests and trends for you so you don't have to worry about sending it to your website provider! QT Office® also has a fabulous Mary Kay® e-mail marketing selection for customers and consultants, along with a Mary Kay® Inventory program. If you want to have popular, stylish Mary Kay® Challenge flyer ideas like this, stay connected with QT Office® by subscribing to our blog! Come join us on Facebook, Twitter, and Pinterest too!
This entry was posted in QT Office® on April 16, 2015