Mary Kay® Halloween Party Idea
Mary Kay® Halloween Party Idea
Do you have your Mary Kay® Halloween party idea set in motion yet? If not, don't worry! QT Office® has designed free Mary Kay® Halloween party invitations to help you set up a spooktacular party! With Halloween creeping up, we want you to be ready to send out invitations for any last minute Mary Kay® Halloween party ideas! QT Office® is keeping the Mary Kay® Halloween party idea invitations in our Seasonal Selling center for our Mary Kay® Unit Websites for Directors and Nationals.
Click on the image below to download and print your Mary Kay® Halloween party idea invitations with editable text boxes! Our Mary Kay® Halloween party idea invitations have four invites to one 8.5×11″ sized paper so you can send out multiples to your friends and family.
All that's left is to set out the Mary Kay® products for display, the snacks and treats bowl, and to have a fun "Ghouls Night Out"!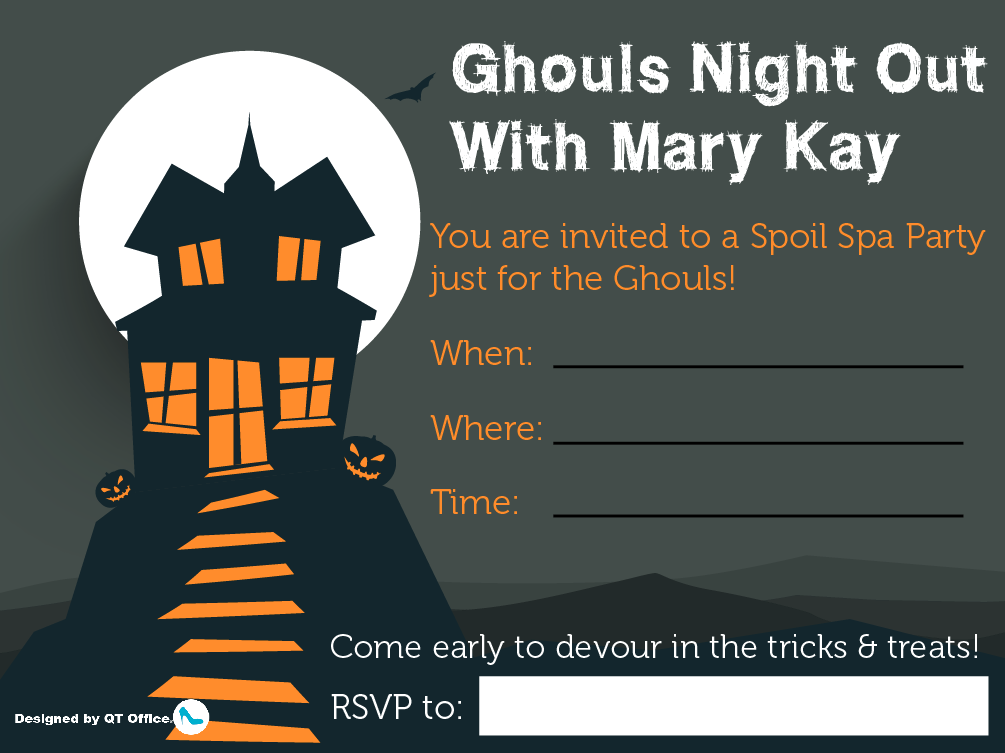 Let QT Office® help you with every aspect of your Mary Kay® business! We offer a wide selection of Mary Kay® website designs that will match your unique style! QT Office®'s Mary Kay® National Sales Directors websites have great, current Mary Kay® training ideas and material for you and your unit. By having a Mary Kay® Unit Website with QT Office®, you will feel organized and have more time for your business! QT Office® provides an astounding Mary Kay® e-marketing selection, while also offering a Mary Kay® inventory program. Stay connected with QT Office® through Facebook, Twitter, Pinterest, and by signing up through our mailing list to get more Mary Kay® freebies!
This entry was posted in QT Office® on October 30, 2014