Mary Kay® Holiday Products Flyer
 Mary Kay® Holiday Products 
QT Office® has designed a Mary Kay® Holiday Products flyer to promote the new Mary Kay® holiday gift items! QT Office® is keeping this flyer in our Christmas Section for our Mary Kay® Unit Websites for Directors and Nationals!
Our Mary Kay® Holiday Products flyer is a great way to boost and share the new Mary Kay® holiday gifts with your customers! Be sure to get tons of gift wrap and bows and let your customers know that you also offer gift wrap when they order! It is a great idea to stock up on these limited edition Mary Kay® holiday products now before the holiday shopping spree begins!  Ranging from Pomegranate Satin Hands® Pampering Set, Mary Kay At Play™ Hail to the Nails Mini Nail Lacquer Trio, Winter Wishes™ Shimmeriffic® Shower Gel and Body Lotion Gift Set, to Winter Wishes™ Eau de Toilette Wand, you will be selling these irresistible products off your shelf in no time! These Mary Kay® Holiday Products are perfect for Christmas gifts!
Click on the Mary Kay® Holiday Products flyer below to download and print to hand out!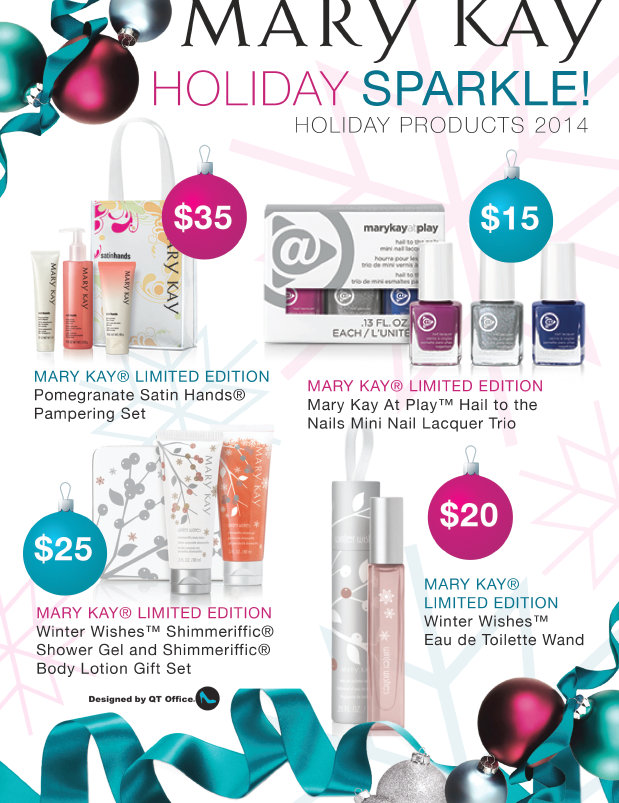 QT Office® offers a wide variety of Mary Kay® training and seasonal selling ideas for our Mary Kay® National Sales Directors websites! QT Office® keeps up with the latest news in Mary Kay® by giving our Mary Kay® websites auto homepages, company contests, and more! Sign up today with QT Office® to get your new Mary Kay® website design a professional, clean and modern look! Stay connected with QT Office® through Facebook, Pinterest, Twitter and our mailing list!
This entry was posted in QT Office® on October 03, 2014