Mary Kay® Hostess Program to Fight Breast Cancer or Domestic Violence
Mary Kay® Hostess Program to Fight Breast Cancer or Domestic Violence
QT Office® has designed Mary Kay® Hostess Program fliers to raise awareness of breast cancer and domestic violence. QT Office® is keeping the Mary Kay® Hostess Program fliers in the Seasonal Selling center for our Mary Kay® Unit Websites. 
Both Mary Kay® Hostess Program fliers have editable textboxes so you can fill out your information and donation amount to prompt others to host a Mary Kay® party. The one below is where you will give your hostesses a reward for having a party to bring awareness to breast cancer, and you will also donate a percentage of your sales or a certain dollar amount to fight breast cancer or domestic violence.
The Mary Kay Foundation℠ recently announced its 2014 grants for research to fight against cancers affecting women. Twelve respected doctors and medical scientists nationwide each received a $100,000 grant to conduct cutting-edge research. More information about this grant can be found in the July 9th Press Release. To date, The Mary Kay Foundation℠ has given $21.7 million, which has resulted in breakthroughs and new discoveries. As Mary Kay Ash often said, "The only answer to cancer is stepped up research, and that's where we can help."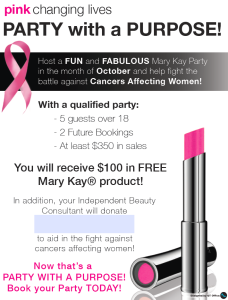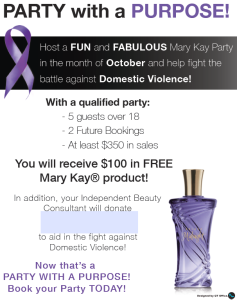 We have a coordinating Facebook post for both of the Mary Kay hostess plans above.
Want to have other great, easy to edit Mary Kay® hostess program fliers for you and your Mary Kay® unit? Sign up for a Mary Kay® National Sales Directors website today! We offer a wide selection of great Mary Kay® training fliers and Mary Kay® seasonal selling ideas! By having a QT Office® Mary Kay® website design, you will feel organized, professional and modern! Stay connected with QT Office® through Facebook, Pinterest, Twitter, and our mailing list to stay in the loop of new Mary Kay® hostess programs, selling ideas, invites, and more!
This entry was posted in QT Office® on October 02, 2014