Mary Kay® Marketing Survey
Halloween Mary Kay® Marketing Survey
QT Office® has made you a spooktacular treat for Halloween! We have designed a Mary Kay® Marketing Survey! Let your friends, customers, and family fill out this fun, Halloween themed survey to bring awareness that starting a Mary Kay® business may be just the opportunity they need! Our Mary Kay® Marketing Survey is filled with questions that will make them ask if they are in the right career path now, and how to contact you for more information about the Mary Kay® opportunity. QT Office® is keeping this spooky Mary Kay® Marketing Survey flyer in our Seasonal Selling center for our Mary Kay® Director Unit Websites and National (NSD) Websites!
Click on the image below to download and print your Mary Kay® Marketing Survey! With an editable textbox, you can fill out your information so they know who to contact to hear more about starting a Mary Kay® business!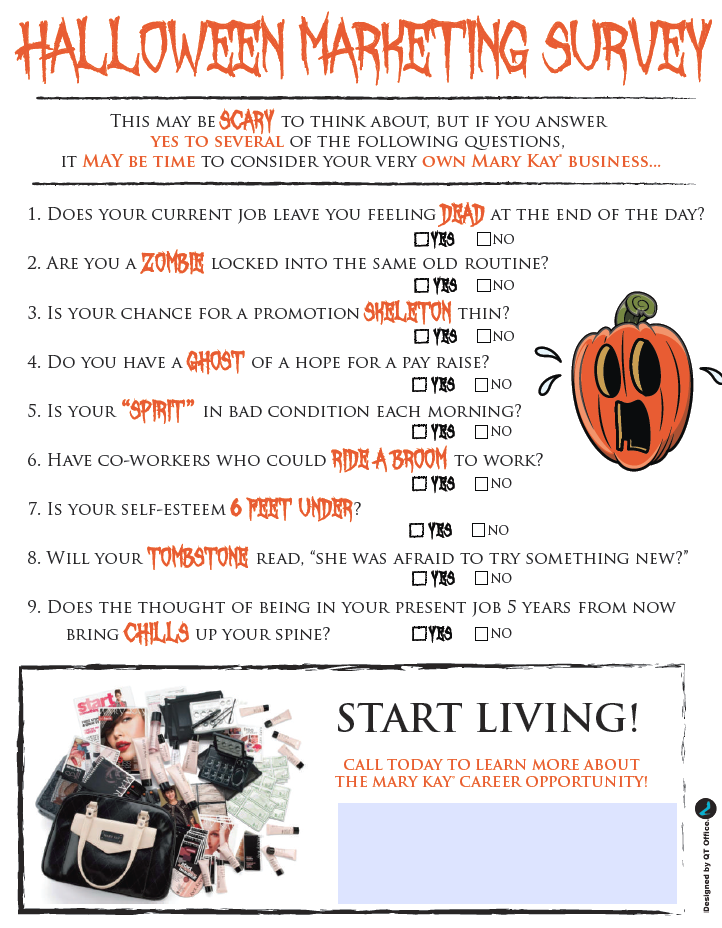 halloween-marketing-survey-QT-Office®_compressed
QT Office®'s Mary Kay® Unit Websites for Directors and Nationals have great Mary Kay® training materials already there ready to use for you and your Mary Kay® unit! By having a Mary Kay® Website Design with QT Office®, you will look and feel organized, professional, and modern! Let QT Office® help you by providing you a fully customized look, great Mary Kay® e-marketing selections while you focus more on your business! Stay connected with QT Office® through Facebook, Pinterest, Twitter, and by signing up through our mailing list to hear about more great freebies!
This entry was posted in QT Office® on October 08, 2014