Mary Kay® Mother's Day Gift Certificates
Mary Kay® Mother's Day Gift Certificates
With Mother's Day approaching soon, QT Office® has designed Mary Kay® Mother's Day Gift Certificate freebies for you to use! Our Mother's Day Gift Certificates are located in the Seasonal Selling section of our Mary Kay® Unit and Area websites! By having spaces to fill out with editable text boxes, you will be set to fill out the name, amount, and redeemable code and be ready to print!
Click on the image below to download and print your trendy, ink-friendly Mary Kay® Mother's Day Gift Certificates! Don't forget to look at our Mary Kay® Mother's Day Gift Basket Ideas and Mary Kay® Mother's Day Gift Ideas! These two flyers go hand in hand with your Mother's Day certificate freebies! We also have another version of Mother's Day gift cards on a previous post!
Do you have a need for Spanish training material in your unit or area? QT Office offers a Spanish training center, seasonal selling, career opportunity and a new consultant page for no additional cost when you have a unit/area website or app with us.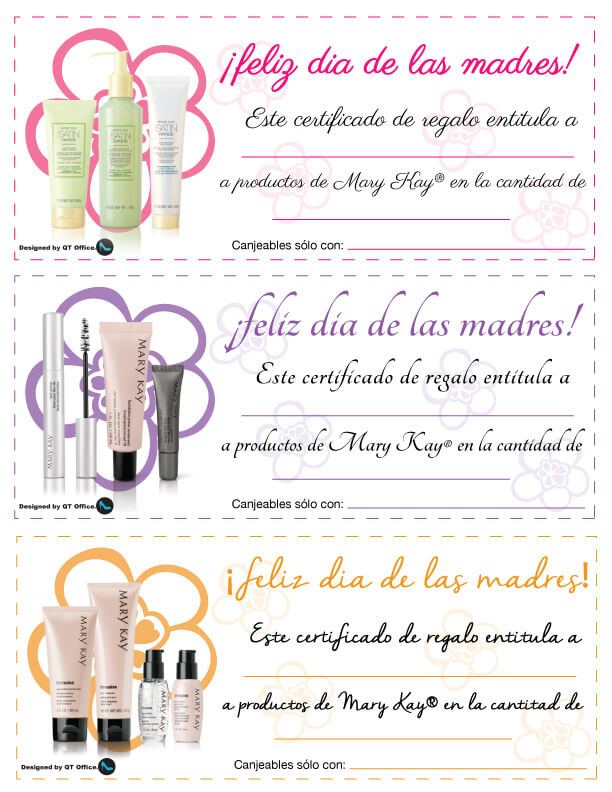 When using the flyers or social media posts created by QT Office, we ask that you please make sure you check all social media guidelines on www.marykayintouch.com when promoting your business to follow the best practices.
QT Office®'s Mary Kay® NSD Director websites include up to date Mary Kay® material such as company contests, training materials, seasonal selling, and many more! We make sure that your Mary Kay® website design suits your style, and allow for you to have an unlimited amount of your own materials! We keep our Mary Kay® Unit Websites customer and consultant friendly and help you stay organized! QT Office® keeps amazing Mary Kay® e-mail marketing designs! Our Mary Kay® Inventory program is a great tool to use to help you gather and organize inventory! Follow QT Office® through Facebook, Pinterest, Twitter, and by signing up for our blog to receive other great useful Mary Kay® freebies!
This entry was posted in QT Office® on April 22, 2015