Mary Kay St. Patrick's Day – It's Your Lucky Day!
Mary Kay® St. Patrick's day flyer
QT Office® is gearing up for this St. Patrick's day by giving you a free Mary Kay® St. Patrick's day flyer! QT Office® is keeping the Mary Kay® St. Patrick's day flyer in our Seasonal Selling section for our Mary Kay® Unit and Area Websites! By having other various Mary Kay® St. Patrick's day sales ideas in our Seasonal Training center, your unit will love how easy it is to fill out the editable text boxes, and go! Let your customers know that it's their lucky chance to get some great deals on their favorite Mary Kay® products!
Click on the image below to download and print your free Mary Kay® St. Patrick's day flyer!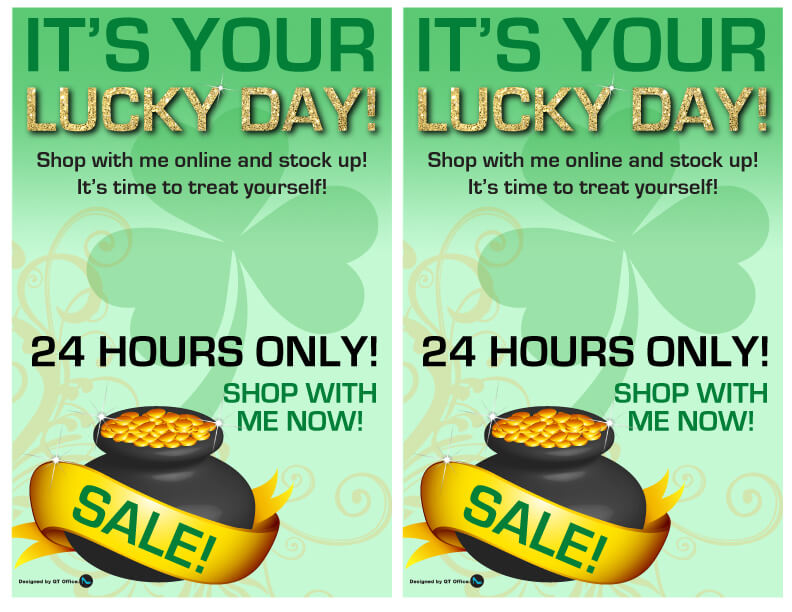 When using the flyers or social media posts created by QT Office, we ask that you please make sure you check all social media guidelines on www.marykayintouch.com when promoting your business to follow the best practices.
Allow QT Office® to be there for you with every part of your Mary Kay® business! We offer an astounding selection of Mary Kay® website designs that will match your style and needs for your Unit/Area! QT Office®'s Mary Kay® National Sales Directors websites have great and current Mary Kay® training ideas and Mary Kay® Seasonal Selling material for you and your Mary Kay® Unit. By having a Mary Kay® Unit Website with QT Office®, you will love a visual, modern look! QT Office® provides a great Mary Kay® e-marketing selection, and a Mary Kay® inventory program so you can stay connected with your customers and consultants! Keep connected with QT Office® through Facebook, Twitter, Pinterest, and by signing up through our mailing list to get more Mary Kay® freebies!
This entry was posted in QT Office® on March 12, 2015