Mary Kay® St. Patrick's Day Sales Idea Clear Proof
Mary Kay® St. Patrick's Day Sales Idea Clear Proof
Looking for a last minute Mary Kay® St. Patrick's Day Sales idea? Don't worry – QT Office® has got you covered with a free Mary Kay® St. Patrick's Day Sales Idea Clear Proof flyer! We are keeping this flyer in our Seasonal Selling section for our Mary Kay® Unit and Area Websites!
Click on the image below to download and print your Mary Kay® St. Patrick's Day Sales Idea Clear Proof flyer today! By having an editable text box, you can fill out your information and the way that is best to reach you so your customers can reach you about Mary Kay®'s Clear Proof® products! This is a great way to help spread and share the wonderful benefits of Clear Proof® with an Irish twist!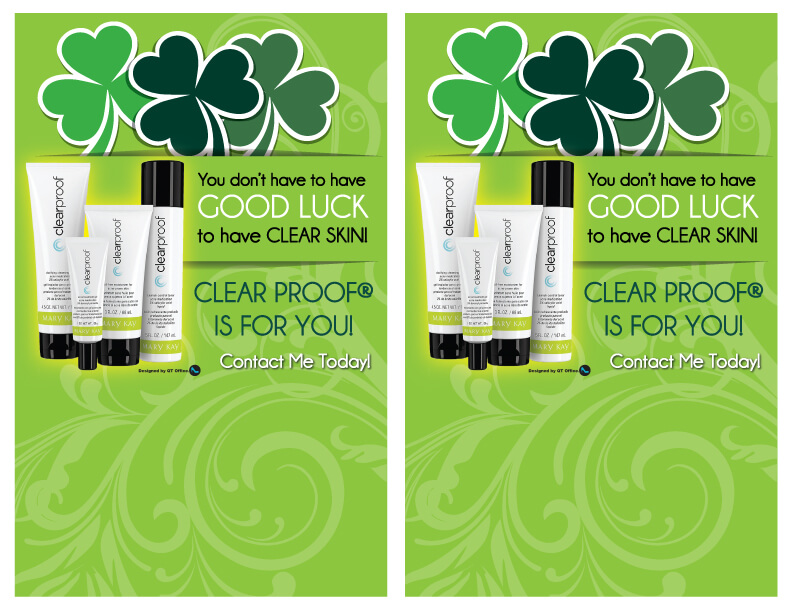 When using the flyers or social media posts created by QT Office, we ask that you please make sure you check all social media guidelines on www.marykayintouch.com when promoting your business to follow the best practices.
QT Office® provides great, and up to date Mary Kay® Unit Websites that gives you a visually stocked training and seasonal selling section! By having a Mary Kay® NSD Director website with QT Office®, you can customize your site to what best suits your needs and goals, such as having dynamic trackers and reports! QT Office® also provides a Mary Kay® e-marketing selection with fabulous designs that are ready to be sent out to your customers and consultants. QT Office® also has a Mary Kay® inventory system to help track your business and stay organized. Stay connected with QT Office® via Facebook, Twitter, Pinterest, and by signing up for our mailing list to receive other great Mary Kay® freebie flyers!
This entry was posted in QT Office® on March 17, 2015