Mary Kay® St. Patrick's Day Sales Idea
Mary Kay® St. Patrick's Day Sales Idea
Now that St. Patrick's day is leaping around the corner, get ready for another great Mary Kay® St. Patrick's Day Sales Idea from QT Office®! We are keeping the Mary Kay® St. Patrick's Day Sales Idea flyer in our Seasonal Selling section for our Mary Kay® Director and National Unit Websites!
Shamrock Shuffle is a cute way to interact with your customer. Each customer that purchased $17 retail or more will have their name entered into a drawing.  Each person has a lucky chance of receiving his or her products half off!  To be entered to win they have to purchase at least $17 but can purchase much more. Be sure to remind them of this when explaining how Shamrock Shuffle works.  For example, if the winning customer purchased just the $17 they would save $8.50. However, if they place a $100 order that would save $50.  So they more they spend the more they would save.
Click on the image below to download and print your Mary Kay® St. Patrick's Day Sales Idea flyer to spread the good luck!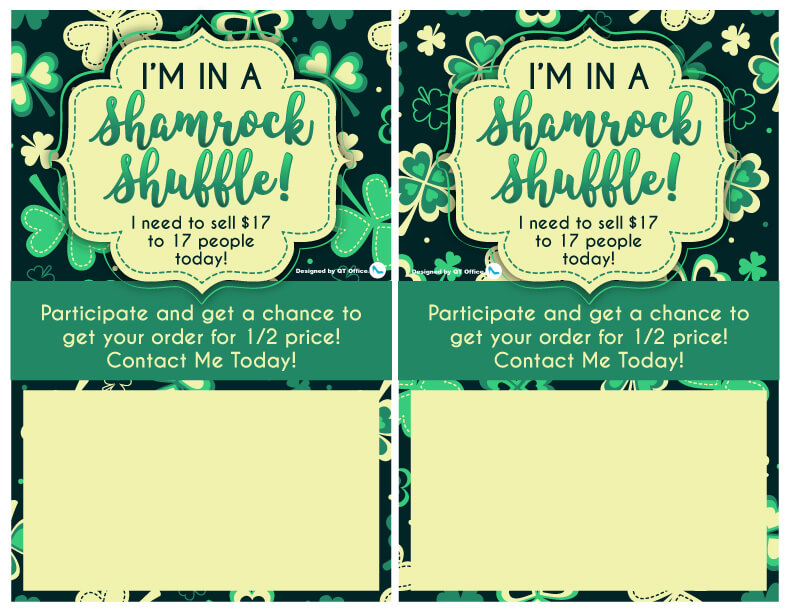 We also have a great flyer for a 24 hour sale that has an editable text box for your personal information and your can customize what you what your sale to be.
When using the flyers or social media posts created by QT Office, we ask that you please make sure you check all social media guidelines on www.marykayintouch.com when promoting your business to follow the best practices.
Want to have a visually dynamic Mary Kay® NSD Director website? Sign up with QT Office® and get started on creating your own Mary Kay® Unit Website! QT Office® stays up to date with the latest Mary Kay® sales and training ideas! By providing you with an astounding Training and Seasonal Selling center you will never run out of great material for you and your Mary Kay® Unit! QT Office®'s Mary Kay® e-mail marketing selection is a fabulous tool to use for your consultants and customers! QT Office® also provides an inventory system to help your Mary Kay® business stay on track! Stay connected with QT Office® through Facebook, Pinterest, Twitter, and our blog email blasts!
This entry was posted in QT Office® on March 16, 2015