Mary Kay® Stocking Stuffers Flyer Freebie
Mary Kay® Stocking Stuffers 2016
Looking for cute, affordable products that will fit together in a Christmas stocking? QT Office® has created a Mary Kay® Stocking Stuffers flyer to show which products will be great for stocking gift ideas under $20! We are keeping the flyer in our seasonal selling section for our Mary Kay® Unit Websites. By looking at the flyer, your friends and family will love how fun it will be for them to fill up stockings this holiday season by having a variety of products to choose from! The Mary Kay® Stocking Stuffers lists the products by price, making it easy to categorize them!
You can also offer trendy bows and ribbons for your customers to add to their stockings!
Click on the images below to download/print your choice of free Mary Kay® Stocking Stuffers flyers! The version below showcases the Mary Kay Gel Semi-Matte Lipstick and new White Tea & Citrus Skin Hands® Pampering Set!
Click on the Mary Kay® Stocking Stuffers flyer below!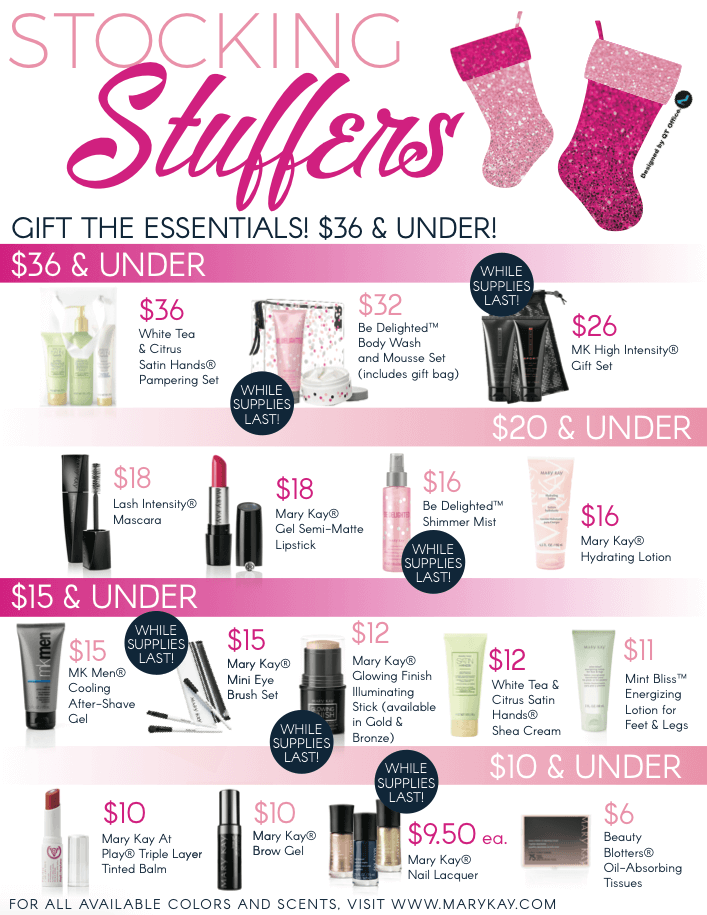 Let QT Office® help you with every part of your Mary Kay® business! We offer a wide selection of Mary Kay® website designs that will match your unique style! QT Office®'s Mary Kay® National Sales Directors websites have great and up to date Mary Kay® training ideas and material for you and your unit. By having a Mary Kay® Unit Website with QT Office®, you will feel organized and have more time for your business! QT Office® provides a great Mary Kay® e-marketing selection, and a Mary Kay® inventory program. Stay in touch with QT Office® through Facebook, Twitter, Pinterest, and by signing up through our mailing list to get more Mary Kay® freebies!
This entry was posted in QT Office® on December 05, 2014