Mary Kay® Thanksgiving Sales Idea: Sell 12 Before Thanksgiving
We are two weeks out from Thanksgiving and most of you already have plans with extended family and friends. As you count your blessings of all the things you are most thankful don't forget to add one more person and that is your cook. Whether they cooked your entire feast or brought a dish to your home, a "sweet" way to say thanks would be a peach Satin Hands cream.
As you can see from the picture, there is a peach Satin Hands cream that has a ribbon tied around a fall or Thanksgiving themed potholder. In the picture a poinsettia was added for an extra touch of pizzazz, but of course a pretty bow would work just as well.
I love this idea because not only would it be great for your family and friends, it is a perfect item to make a sale in the next few days, and always a great conversation starter about your Mary Kay® business and gift giving ideas for Christmas. Make a few up and take them with you from now to Thanksgiving and sell them to everyone who needs a thank you gift.
A special thanks to Gretchen Runkle for sharing this wonderful idea!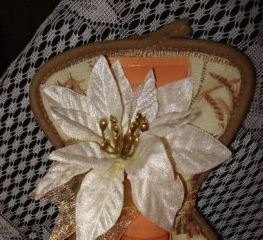 This entry was posted in QT Office® on November 08, 2012