MaryKay® Mascara-thon Tracking Challenge
Mascara-thon Tracking Sheet
How does "Mascara-thon" work? Well, if your customers sell 6 mascaras they get one free, and if they sell 12 mascaras they earn mascara and eye makeup remover for free. Their friends and family can choose between a black or black brown color for their product of choice. The types of mascara on this tracking sheet include Lash Love, Ultimate Mascara, Lash Length Mascara, Water-proof, and an Oil Free Eye Makeup Remover.
The tracking sheet has numbered blocks for the customer's name, their phone number, pre-tax total, sales tax, and a total. The pink and white rows help distinguish every other clients information, so no one will accidentally mix any information up! The layout of this sheet is straightforward and simple. Click on the image below to view or print.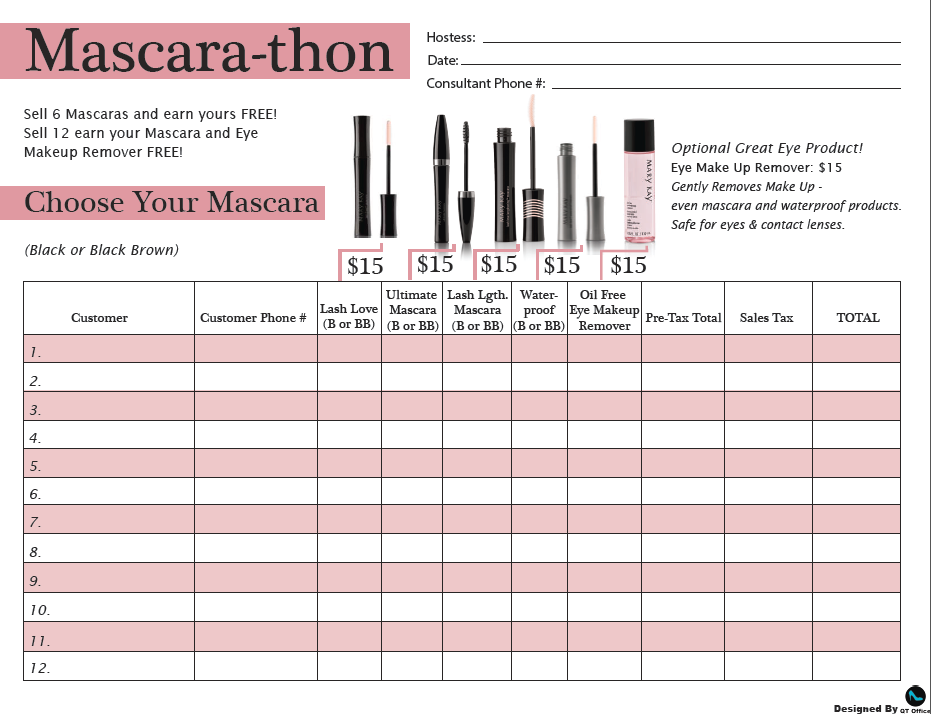 QT Office has added "Mascara-thon" in "Selling" under the Training Center so  it will be quick and easy for your consultants to find and to help them reach their goals. If you want to have popular, stylish ideas like these, stay connected by subscribing to our blog! Come join us on Facebook, Twitter, and Pinterest! If you want to have a gorgeous, trendy Unit Website, browse through our website and check out our great deals and prices! Don't forget about the promo code below!
This entry was posted in QT Office® on May 09, 2014