Millionaire Secrets of Success from Gloria Mayfield Banks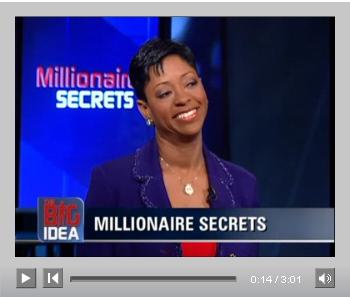 Elite Executive National Sales Director Gloria Mayfield Banks was a special guest on The Big Idea with Donny Deutsch. If you did not see it, then this is a MUST SEE episode! I loved it for so many reasons. I loved that she was teaching the world how to be successful, not just ladies, the comedic industry or training multi level marketing, but the world. Gloria Mayfield banks proved her Success Secrets transcend all industries. Here is a summary of the words of wisdom from Gloria.
"Be on purpose with drawing people to you. Building strong people skills is important no matter what you do. The more people are pleased to be in your space and feel better when they are with you the more effective you will be."
Short Term Clear Strategic Goals Backed by Big Thinking:
"Everything starts with a dream. This is the place where your personal juices start to flow towards creating something new and different. But dreams alone will not produce results; hard work alone will not product the correct results."
Create a Powerful Circle of Influence:
"You always become like the person you hang around. Show me your friends and I will show you your future. One must be on purpose with deciding the people that will influence your thoughts, information, decisions and perception."
"Opportunities are endless but most don't know it because they are not asking, they are not offering. Fear, rejection, assuming decisions for other people stop many people in their tracks from just asking. Many people need to focus on the activity of offering."
Study Hard to Become Skill-Based:
"My education at Harvard University's School of Business showed me the value of preparation and detailed understanding whenever possible.  Studying brings competence, competence builds confidence, and confidence produces BIG results. Being skilled and knowledgeable turns a professional into a problem-solver and leader; which in turn increases their effectiveness and quickens the pace of moving towards the goal". 
I know many of you will take these points and boost you business to the next level!
If you would like to see how QT Office can help you put systems in place that will free up your time to concentrate on these 5 areas then we invite you to see for yourself. It's completely free for a full 30 days! Just click on the link below.
This entry was posted in QT Office® on May 10, 2011