Gift Certificates for Mother's Day
Gift Cards
Pamper your mom this Mother's Day by giving her a fresh, new look! Give her a Mary Kay® gift card for your products! Don't get stuck and stressed out trying to find her the right gift. Instead, allow her to pick and choose what she wants by shopping and browsing through your inventory. She will be delighted and eager to gather and try out her favorite products on her special day. What better way to show her how much you appreciate all the hard work she has done by letting her sit back and enjoy glorious makeup and facial goodies?!
"A mother is she who can take the place of all others but whose place no one else can take." – Cardinal Mermillod
These Mother's Day gift cards have been added to the Seasonal Selling page. You can choose from amounts of $10, $25, $50, or even $100. The gift cards have an editable text box so you can write her name and yours. There is also a box under "redeemable with" that allows you to fill out your information so she can use the gift card. Click on the price below to download, edit and print. She will feel rejuvenated and glamorous after using your products.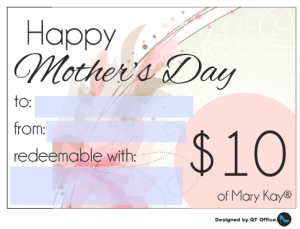 Want other great gift ideas like these? Sign up on our mailing list, and stay connected through Facebook, Pinterest, and Twitter! If you want to have trendy and modern gift cards like these for your consultants, check out our Unit Websites and sign up for one today by using the promo code below!
This entry was posted in QT Office® on May 01, 2014