Sell $24 of Mary Kay to 24 people in 24 hours and profit $288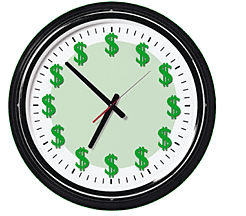 It's that time of year again; we are approaching the end of a month and the end of seminar year.  Many of you want to do a final push to in these last few days to connect your dreams to your reality.
Sell $24 to 24people in 24 hours.
This is a great idea for two reasons
Its not to late, you still have plenty of time!
You don't have to have many customers or even know a ton of people. Everyone knows 24 people so this can work from everyone from a new consultant to a top director.
When you sell $24 to 24 people = $576!  That's $288 in profit. What could you do with an extra $288? Also, many of your customers will order a little more than $24.
Choose to work with passion and dedication and this will work, and as always everything in life is a numbers game so make sure you ask MORE than 24 people to get 24 sales.
A good strategy is to have sets or "baskets" that add up to $24 ready to sell, and have them ready to go.  Something as simple as having some of these sets with you everywhere you go from now to end of the month could be the difference between getting a sale and not getting a sale. You can keep it simple by combining two items in a gift bag or cello bag.
Here are some examples:
2 lip glosses for $28
Lip liner and lip gloss for $26
Age-Fighting Eye Cream  $26.00
Firming eye cream $30
2 eye colors and 1 eyeliner $23 (ok so this is $1 short but as you can see several of the other sets are a little over $24)
Lash Love Mascara and Eye make-up remover $30
Lash primer and love lash waterproof mascara $30
Or you can get your customers excited by offering them new products.
Here is a power play:
Print your discontinued list and pass it out to your customers. Mark this list as 30% off until it's gone. Pass the sheet out to all your customers and let them know what you are doing. Keep updating this list as you sell products, that way when a customer calls you can tell them "I have (insert number) of that left, Mary Kay® will not be making that product any more, did you want to stock up on them? You will not be able to find this in the future". That is a great way to move older products off your shelf!
Work with what you have on your shelf and "bundle" and sell, sell sell.  Cable companies do this, and so do insurance companies (because bundling works). You should also "bundle" your way to you month end goal.
Good luck to all of our QT's  and everyone in Mary Kay, please remember your customer support team at www.qtoffice.com  is here to help you with anything you need.
This entry was posted in QT Office® on June 14, 2012