Survey Card for your Mary Kay® facial boxes or fish bowls
Last week the graphic designers at QT Office created two new facial box signs to add to our Unit Websites Training Center for all of our Sales Directors and Nationals. We also had several requests for an information card or entry forms to go along with the facial boxes.
With the Office Depot Program for Mary Kay® Independent Beauty Consultants you can print black and white copies for $0.025 each, and you will have four postcard size information cards to a sheet. Which would make your cost less than a penny per card.
Also with your Mary Kay® discount at Office Depot you can have them cut your postcards so they are ready to go and you receive 40% off the retail price. If you cannot find the discount card you need, simply search Office Depot on InTouch and it will come right up, along with other discount you receive for being a Mary Kay® consultant.
You can find 2 versions of a facial box sign created by QT Office by clicking here.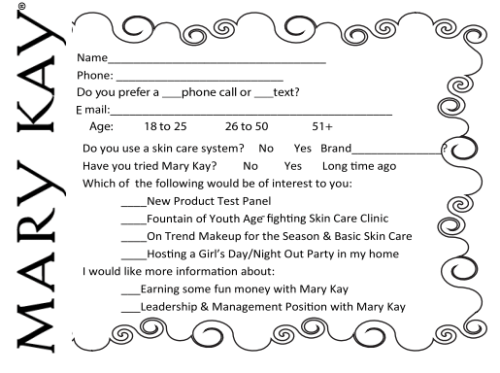 Wishing your Mary Kay Unit Website had a clean modern look, backed by amazing customer service? Check out a few of our awesome creations.


This entry was posted in QT Office® on June 27, 2013