The Top ten things you can do in 10 minutes to grow your MK business
One thing I love about running my business (QT Office) and a blog for MK is that I can work pretty much anywhere and anytime because I can bring my laptop (or phone) with me; and this is one of those times it really pays off.
You see, I'm sitting in the lobby of my Dentist office and I'll be heading to get a cleaning. I have about 10 to 15 minutes and I thought "Gee, I hate waiting"… and that made me think "What can I do to be productive?". And that brings me to our topic today. "The Top ten things you can do in 10 minutes for your MK business" (in No particular order).
1. Warm Chatter – there are probably other women sitting next to you just as board, why not start up a conversation?
2. Write a hand-written personal thank you note – You would be AMAZED how much a non-salesy handwritten note can brighten someone's day. The key is to not sell anything (you will still be on their mind).
3. Put some makeup on – Yes i'm serious! this could be a great lead in 😉
(See number 1.)
4. Prioritize your 6 most important things list for TODAY and Tomorrow (if you have not already) – this way you will get done what is actually important; the other stuff can wait. The whole point of the most important things list is to relax your mind, get the important things done, and feel good about doing them (even if you do not get all the other stuff done).
5. Follow Up with a customer that has purchased a product for you in the past – A good example would be "Hi (customer), how is that eye shadow working for you. I thought that color looked great on you. Just wanted to make sure you are completely happy with it. (that's great customer service!)
6. Check your inventory to see if you are low on anything you would like to keep on hand and re-order those items so they will be in stock and ready to sell.
7. Post a facebook Wall Post (like your not on there already!) – A great example – Hi (customer), just wanted to let you know that your skin is glowing! You must be using that MK 😉 A message like this will get you in front of her friends as well (without being too saley).
8. Pay your bills – Wait, this isn't Mary Kay related! True, it's not, but it's one of those things you HAVE to do, so knock it out now and there will be one less thing to worry about later.
9. Ask if you can leave some information about your business in the lobby.- You give them business, why shouldn't they do the same?
10. Blog – Having a blog can really help your business. Check out Daria Rocco's blog at http://daria-rocco.blogspot.com/. Daria is Amazing. She is set to be a National in 2012. She is a GREAT example to follow (you will still have to come up with your own content, but this is a fantasic was to talk about Mary Kay and generate new leeds. Make sure you follow your Mary Kay Guidelines
(p.s. "Write a blog" was on my 6 most imporant things list today as well, and it feels GREAT to be able to cross it off!)
Feel free to replace any of the above with "sign up for QT Office". =) That is my "Warm Chatter". You can find out more about how QT Office can help you grow and organize your MK business by clicking the link below. Also, the items in Pink are just a few of the things that QT Office can help do for you.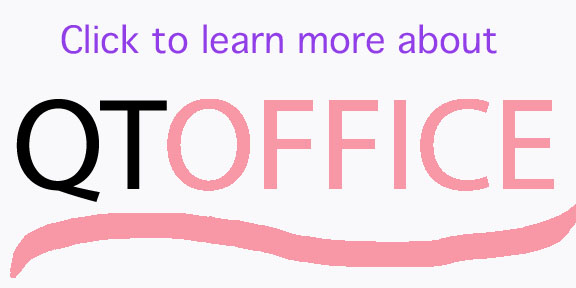 This entry was posted in QT Office® on July 07, 2011