Top five reasons to use QT Office to create your Mary Kay invoices
Here is a picture of what your Mary Kay Invoice would look like using QT Office.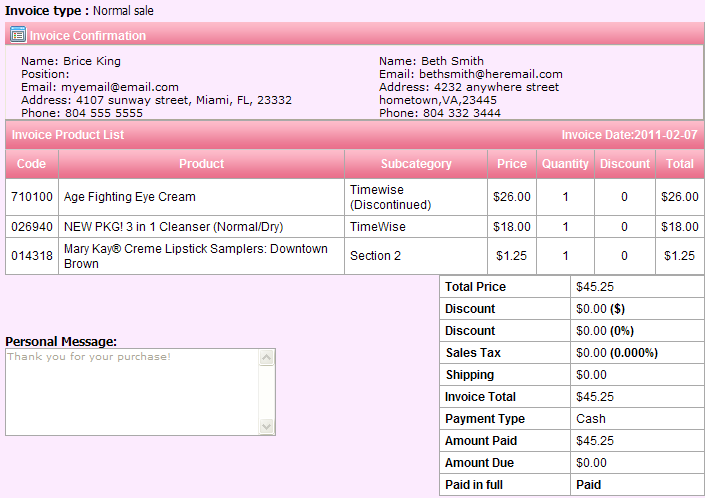 1. When you create an invoice your Mary Kay® products will be removed from your inventory totals, so you will have an accurate inventory list at all times of what you still have in stock.
2. The Mary Kay® products you sold will be automatically added to your Product "Re-order items" so that when you are ready to create an order on www.marykayintouch.com you have a list of item you sold as your guide.
3. The products sold will go under the "Customer Purchase History" of your Mary Kay® customer, so when you follow-up with them, you will know what they purchased.
4. After you complete your invoice, the products you sold will also go under the "Product History", so you can click on any product at any time and see all of your customers that have ever purchased that product. This feature is great when you have a product that is going to be discounted. You can look back at anyone who purchased that product and contact them and give them the opportunity to stock up. With this feature you never have discontinued product pile up, and your customers don't think of it that way, they just see great customer support because you were able to offer them a product before Mary Kay® stopped making it.
5. Your sales are automatically filled in on your "year-end tax report". At the end of the year you don't have to waste any time adding your sales for the year because it's already done for you when you create your invoices on QT Office. You can choose from any of the following:
Normal Sale (For when you sell any item to your customer for profit)
Demo Products/Samples = tax write off
Personal Gifts = tax write off
Personal Use Products = tax write off
Lost/Stolen/Damaged Goods = tax write off
Donations(charity) = tax write off
Hostess Gifts/Earned Gifts = tax write off
As a bonus, you can take advantage of all of your tax write offs and owe Uncle Sam a little less at the end of the year!
The best part is that all of these features are combined to work seamlessly in the background while you create the invoice. Let's review what happens when you create that invoice one more time.
Your product is subtracted from your inventory
It is added it to your reorder items list
Your customers product purchase history is updated
Your product sales history is updated
The income or expense (depending on the type of invoice you selected) is recorded for the sale or expense in your "Year End Tax Report" which totals up your sales and expenses all year long in one easy to read and printable report.
If you would like to learn more about tracking your products, inventory and expenses then you can try QT Free for 30 days by clicking the link below.

Here at QT Office we are always excited about helping Mary Kay consultants and Directors learn more about putting systems in place. If you would like to receive information from time to time about all kinds of topics related to success with your Mary Kay Business, then sign up for newsletter updates above and to the right. All you need to enter in is your email address, and you can cancel any time you like. Some examples of our articles include:
Who invented the Mary Kay 6 most important things list?
What do Mary Kay car drivers drive around the world?
and more articles all the time!
Here is what your inventory levels will look like for a search of "timewise". We have chosen to show only products we have on hand. You can also select your "target" number, which acts as your "don't fall below" for your products. This way, you don't have to keep up with your product levels, you will just "set it and forget it" then check your "re-order" sheet for the items you need to place an order for.

This entry was posted in QT Office® on February 08, 2011