Wow Mary Kay's® new Vitamin C Squares are a beauty industry first!
Mary Kay's® new Vitamin C Squares are a beauty industry first! This amazing Vitamin C square is fresh EVERY Time! Pure vitamin C degrades & loses its power over time when exposed to air, light or water. That problem is solved with a breakthrough in technology that keeps the PURE Vitamin C stable until you unlock its power with every use!
The designers at QT Office have created this flyer with an editable text box for your personal information for you to share with your customers, family and friends. Of course we will be featuring this along with other great flyers in our seasonal selling section of our Unit and Area Websites and Apps.  If you are interested in a Unit or Area App for a fresh start make sure you take advantage of our seminar sale for half off your set up fee. If you have any questions give our office a call Monday- Friday 9-5 Eastern time zone at (888) 440-7247.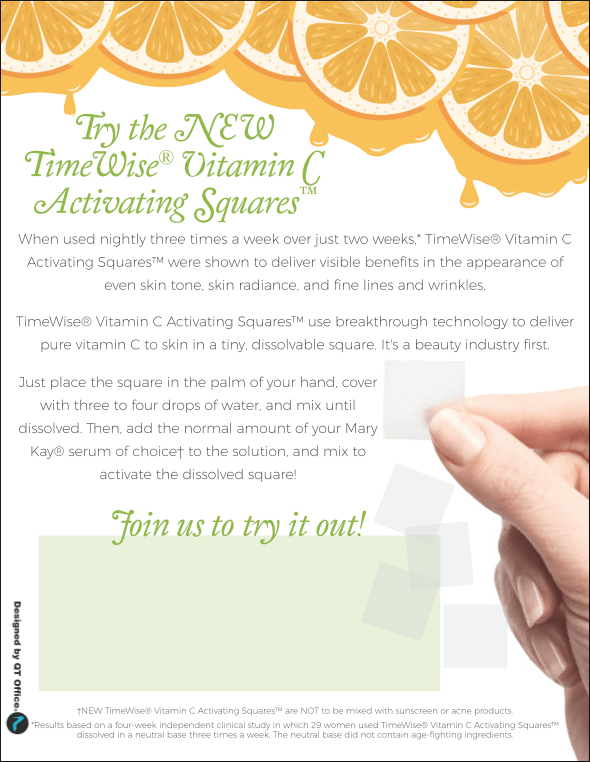 If you're ready to get your Digital Business Card check out this page to learn more.
When using the flyers or social media posts created by QT Office, we ask that you please make sure you check all social media guidelines on www.marykayintouch.com when promoting your business to follow the best practices.
This entry was posted in QT Office® on July 26, 2017