Mary Kay® Holiday Selling Blitz Flyer Freebie
Mary Kay® Holiday Selling Blitz
QT Office® has designed a Mary Kay® Holiday Selling Blitz freebie flyer for you to expand your Mary Kay® holiday selling ideas! We are keeping the Mary Kay® Holiday Selling Blitz in our Holiday section for our Mary Kay® Unit Websites! We believe now is the time to start working those sales idea since the holiday season is right around the corner!
The Mary Kay® Holiday Selling Blitz idea was created by National Sales Director Bett Vernon and she explains the steps you can take in order to have a $12,000 Holiday Selling Blitz! It includes a fantastic Mary Kay® booking script, along with the times scheduled out for you! By following along NSD Bett Vernon's schedule, you will have a fabulously fun event! Click on the image below to download and print your Mary Kay® Holiday Selling Blitz!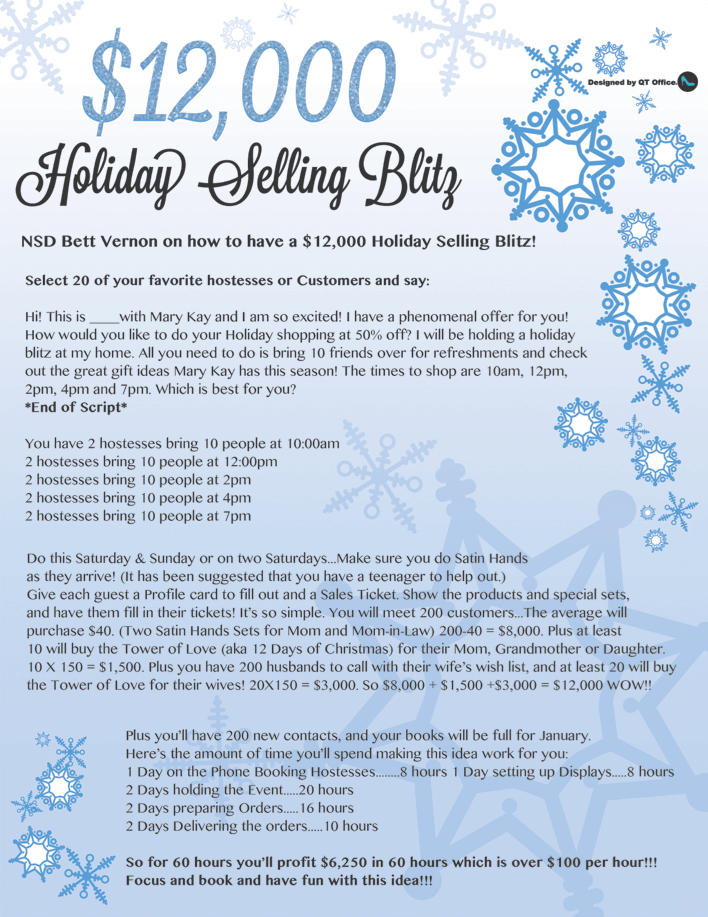 QT Office® will help you every step of the way with your Mary Kay® business! By providing professional, modern Mary Kay® NSD Directors websites, you will have a numerous amount of easy to access Mary Kay® training material, selling ideas, tips and even Mary Kay® Seasonal Selling ideas and flyers! QT Office® provides a Mary Kay® e-marketing selection for your consultants and customers! Stay connected with QT Office® through our Facebook, Pinterest, Twitter, and by signing up through our mailing list to receive more freebies!
This entry was posted in QT Office® on December 09, 2014