Queen's Court of Sharing 2017 Seminar Year
Have you set your goal to earn a fabulous prize for completing Queen's Court of Sharing for Seminar 2017? If this is your goal you will love the Mary Kay® tracking sheet created by QT Office. Print it and keep it somewhere visible, and share your goal with your family and friends. Don't forget to also let your director and national know this will be what you are working towards this year so they can cheer you on towards your success and be there to mentor you as needed during your journey to the Queens Court of Sharing. 
"A good goal is like a strenuous exercise – it makes you stretch."-  Mary Kay Ash
Your team at QT Office has added this to our Training Center of our Unit and Area Apps and Websites.  If you are in need of an amazing Training Center and beautiful special recognition for your unit or area visit QT Office to learn more.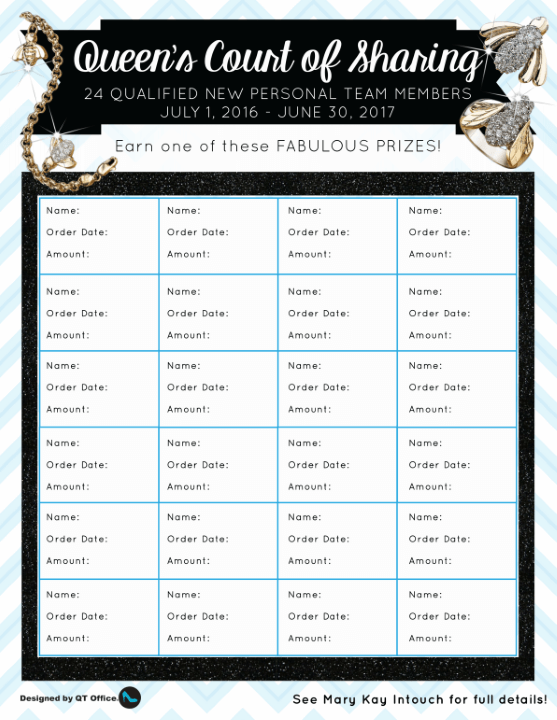 The Fabulous Game! – for endless Mary Kay® leads
Have you ever run out of leads in your Mary Kay® business?! Not a good feeling! The Fabulous Game makes it easy to get referrals, so you can always offer a pampering session to the family and friends of everyone attending your current class, facial or event! You get to build your contact list while sharing the Mary Kay® fun with everyone!
This flyer was designed by our fabulous graphic designers at QT Office to be added to our Training Center for our Directors and Nationals Unit or Area Websites and Apps. We believe your team deserve flyers that help them grow their business that are as sharp as they are.
Get Ready for a Sent-sational Summer!
Mary Kay® has many fragrances for everyone in your life – from the manly men to the girly girls! Since there are so many to choose from QT Office has brought you a informational flier of 7 fragrances, including Mary Kay's® new MK High Intensity Ocean™ Cologne Spray and matching MK High Intensity Ocean™ Hair and Body Wash!
At the bottom of the flier, QT Office included an editable text box so you can easily customize the flier!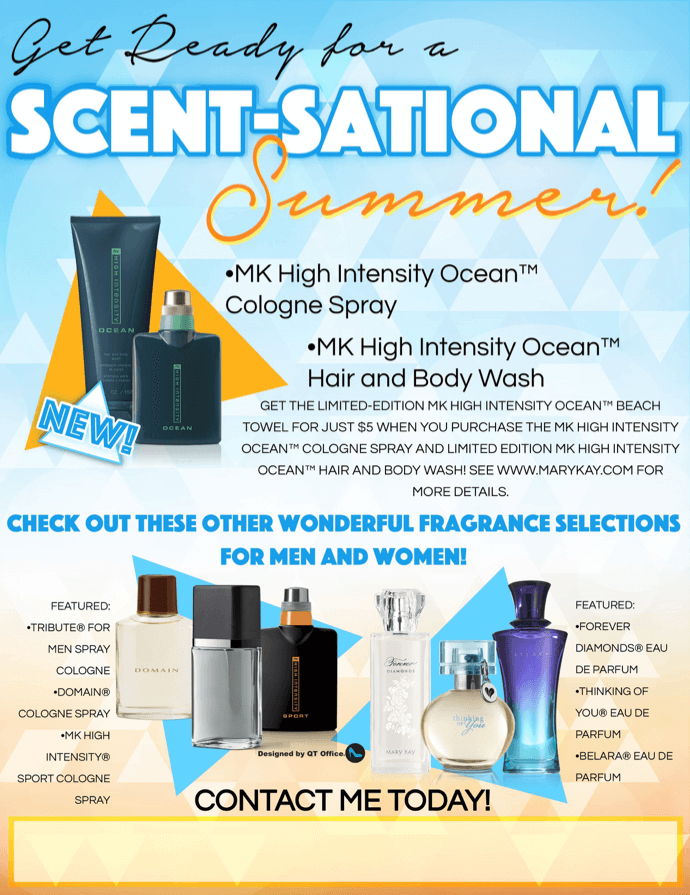 1st Quarter Star Consultant Program Prizes!
The New Quarter is here, which means it is time for new goals and prizes!
QT Office has made a fun flier that shows off all of the amazing prizes Mary Kay® offers for each star level that is reached! The flier even breaks down how to reach each star level! How amazing and easy is that?
Feel free to share with all of your consultants so they can set their goals today!
QT Office even translated the flier into Spanish so everyone can learn about the prizes for the quarter! You can find both translations below!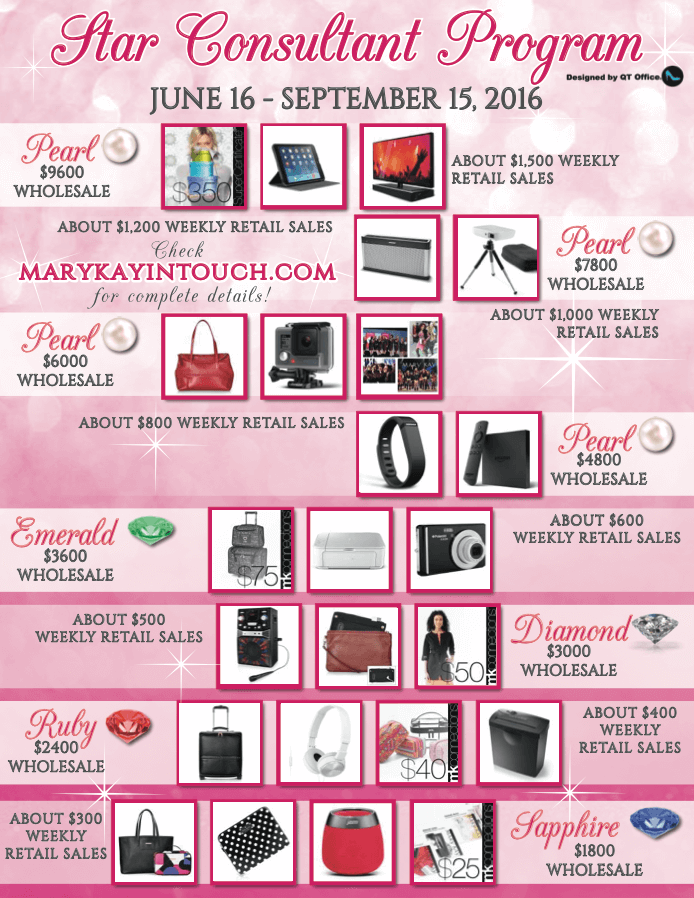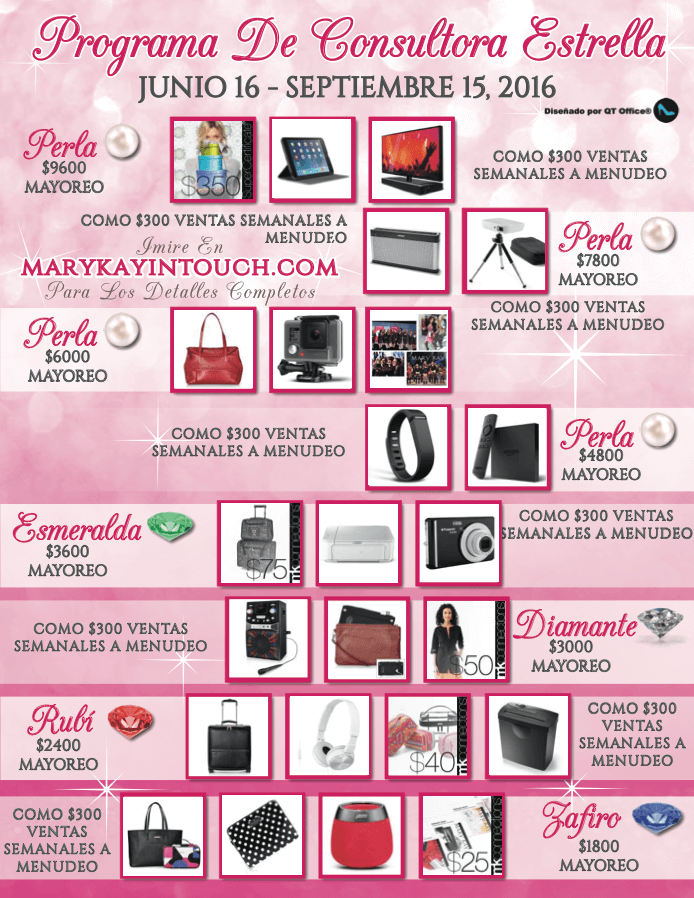 Mary Kay® Father's Day Flyer 2016
QT Office designed the perfect flyer for you to promote the Mens Skin Care line to your customers. It can be found in the Training Center of our Mary Kay® Unit Apps and Websites for Directors and Nationals on our Seasonal Selling page where we always have the hottest flyers for every season.
Skin care is not all-feminine, so show the man in your life that they deserve to be pampered too! Show your dad some love by gifting him with the advanced technology of MKMen® Skin Care products! These products are designed to keep the skin protected from all different environmental conditions and to give them the best shave they deserve.
QT Office has this amazing FREE flyer that explains what the MKMen® Skin Care line does, which makes finding the perfect Father's Day gift easy!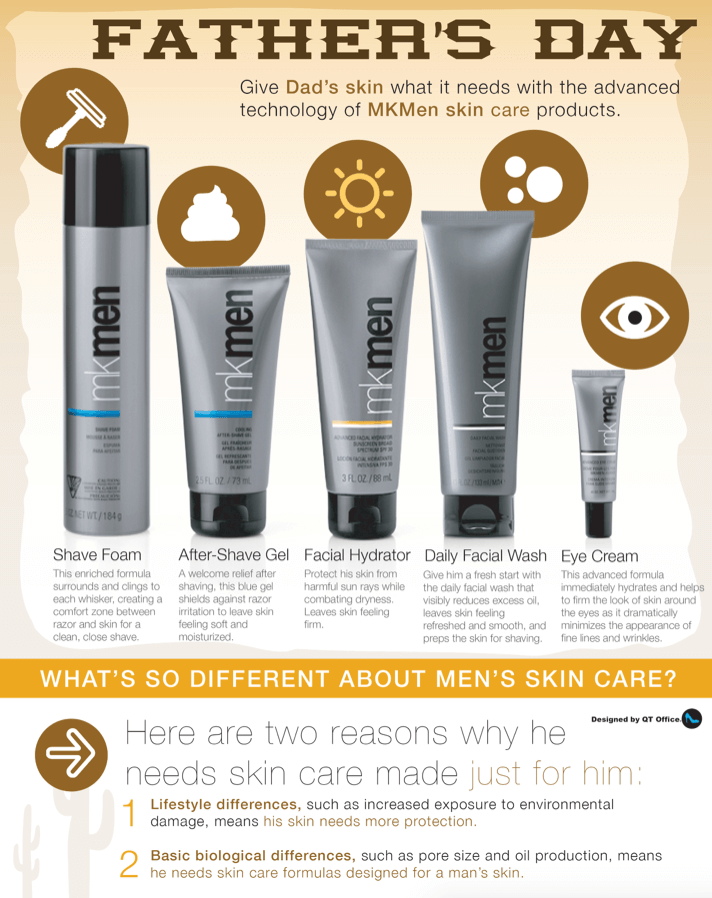 Thinking About Getting a Summer Job?
Being a Mary Kay® Consultant is the perfect part time summer job! If you end up completely loving the position, you don't have to stop selling! This is the perfect position for those who has a full time job, but want to make money on the side!
If you want to make sure working with Mary Kay® is the right job for you, QT Office has a FREE flier that breaks down the benefits of being a consultant!
OR
If you already are a Director looking for more consultants, this is the perfect flier to hand out at your next party or meeting!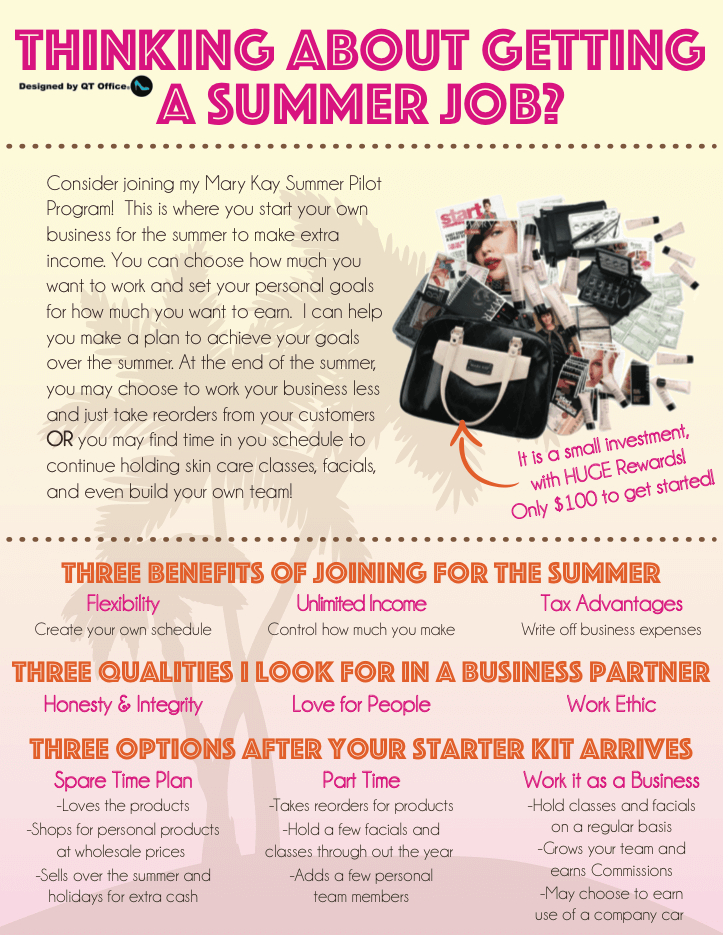 If you want to be able to reach your customers and Unit Members faster and easier, QT Office offers a completely customizable Digital Business Card! This card links your customers to your personal MK Shop pages, social media sites, and gives them directions to your Weekly Meetings! If you want to learn more about the Digital Business card, email QT Office at info@qtoffice.com!
Father's Day Must Haves
Treat your dad this Father's Day with something new. Mary Kay® has many AMAZING colognes and skincare that you can add to your dad's collection! QT Office has laid out all of their best colognes and skin care items thatMary Kay® has to offer under $40. This FREE flier that QT Office made is perfect for anyone on a budget, but still wants to spoil their dad this Father's Day!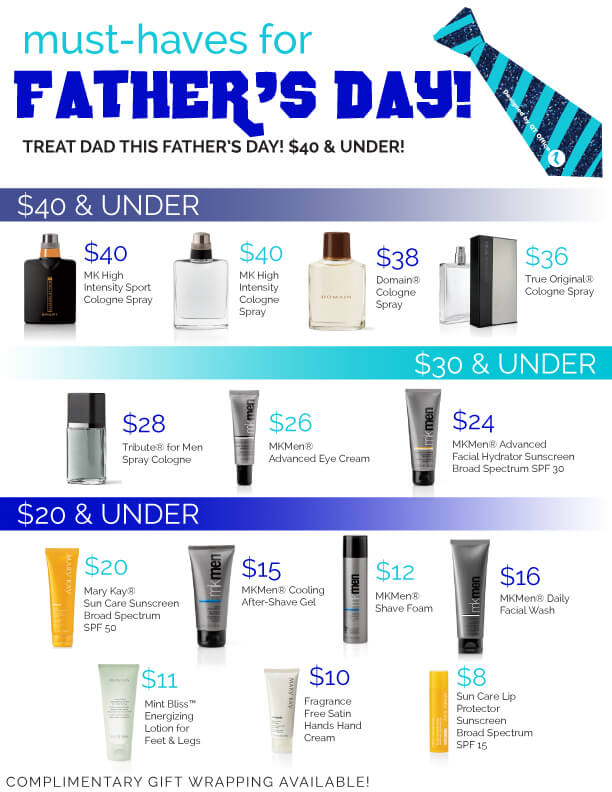 Mary Kay® Beauty That Counts® Flyer 2016
To help you make the most out of this Limited-Edition Mary Kay® Beauty That Counts® lipstick, use this FREE flier that QT Office has designed for you! Every purchase goes towards the Mary Kay Foundation, and every flier helps spread the word around! Who wouldn't want to look good and help a great organization!?
This charitable offer ends on August 15, 2016, so get your FREE flier while you still have a chance!
QT Office has even provided the flier with an editable text box so you can customize the flier for your needs!'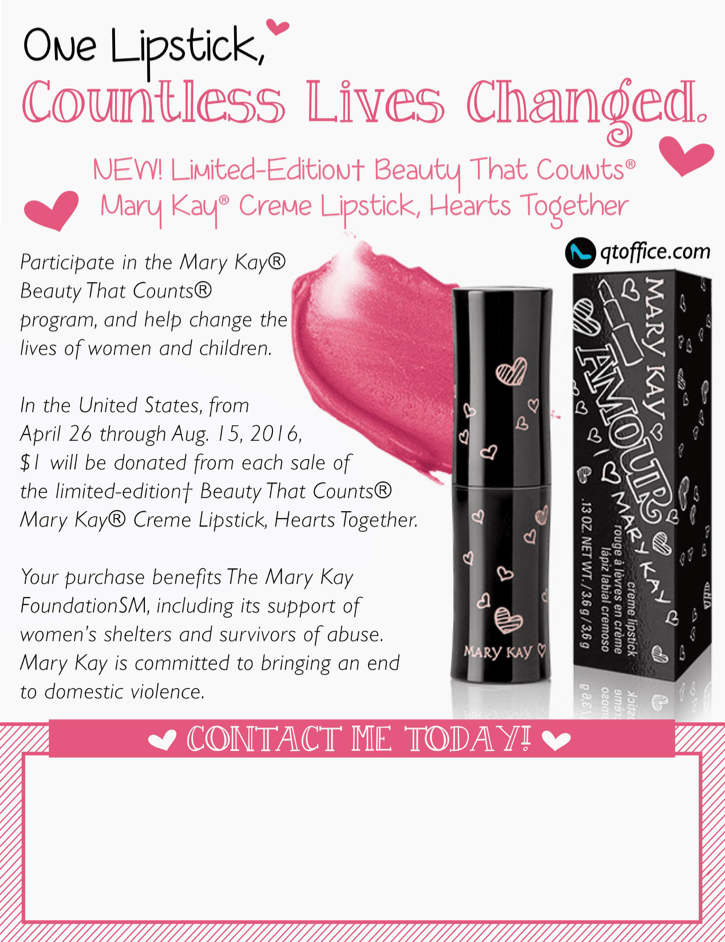 Host Your Own Lash Bash
It's time to party! Everyone wants their eyelashes to stand out, so what better excuse to invite everyone over to play with Mary Kay's® newest Lash Intensity™ Mascara! QT Office has created the perfect invite for you to hand out to all of your customers that introduces the Lash Intensity™ Mascara.
QT Office has even formatted each invite so you can customize it with your contact information or any other promotions you would like to run!
Click on the images below to print your freebie! (in both English and Spanish!)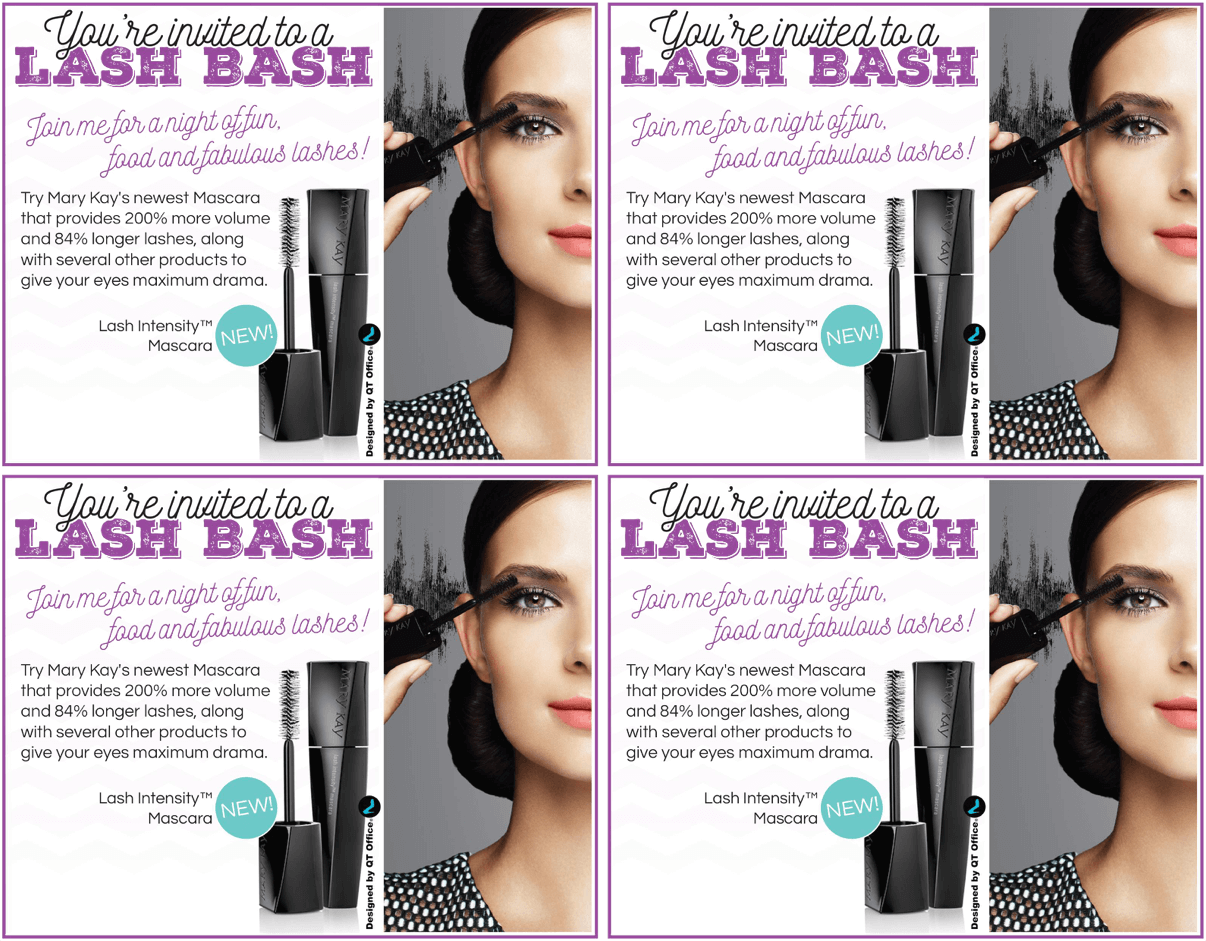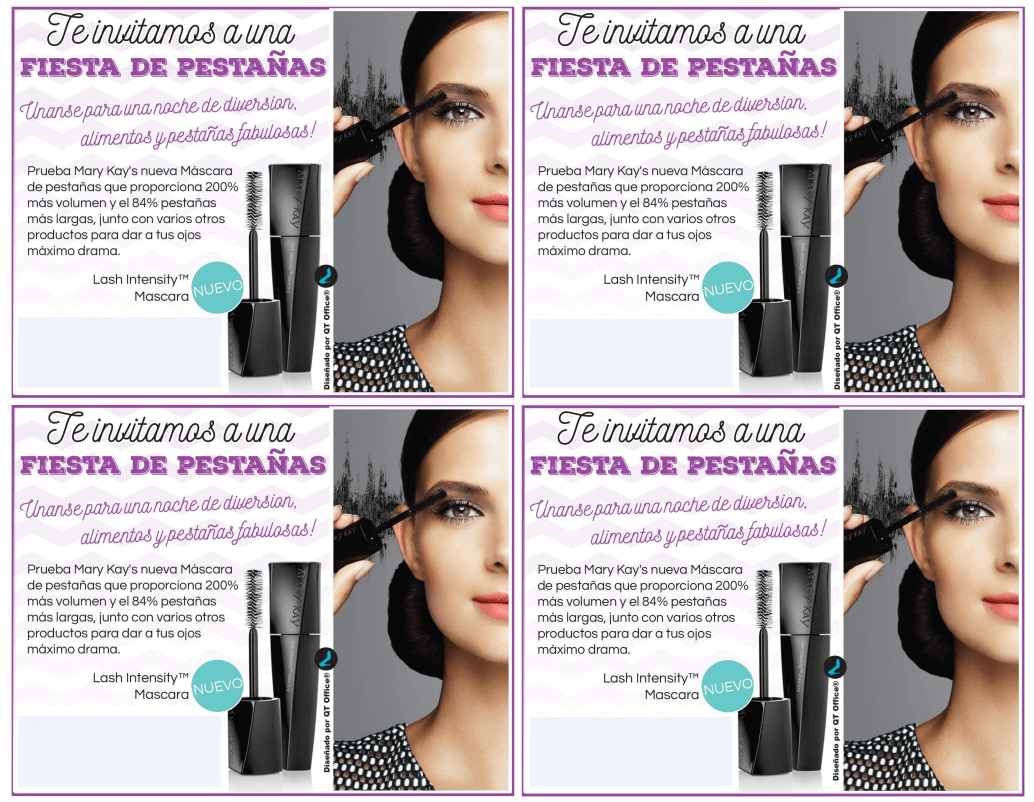 Red, White & Blue Colors For You
Show everyone how proud you are to be an American this Memorial Day when you mix and match any of Mary Kay's red, white, and blue products!
There are many products to chose from, like NouriShine Plus® Rock 'N' Red Lip Gloss and Mary Kay® Mineral Eye Color in Sterling to make your eyes sparkle brighter than the fireworks you will watch this Memorial Weekend!
With Mary Kay® you can make all kinds of different looks through out any season! Feel free to use this flyer to help promote these great products!
You can find many other seasonal promotional products under Seasonal Selling on any of our Unit Websites!